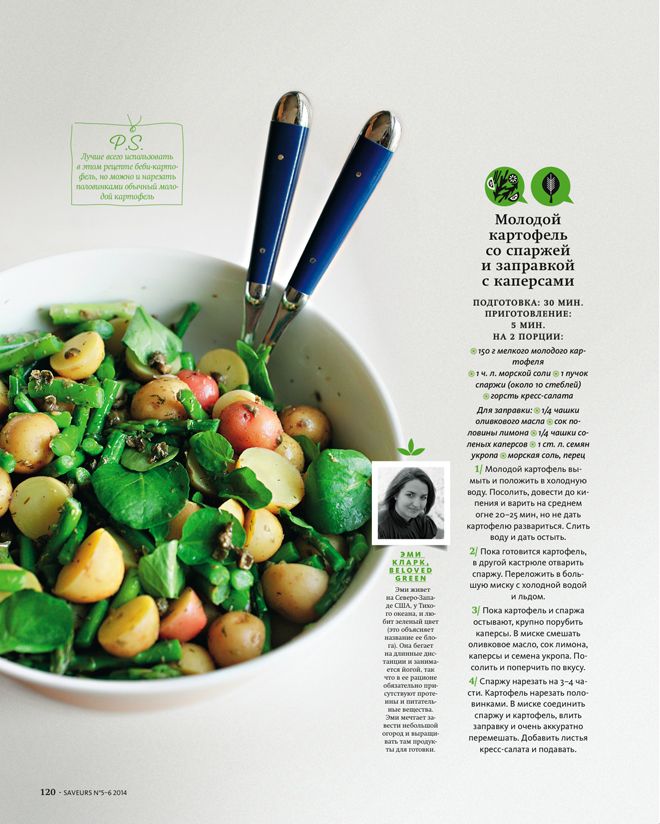 I cook because I love to create. I also really love to eat. I'm kind of a pro at it.
The experimentation with flavors and the opportunity to create imagery to share with others makes the entire process mentally stimulating. This blog was started as a way to categorize the most successful of those experiments, and maintain a personal cookbook of sorts.
Folks might ask what I did to the recipes that failed.
Does not happen.
Nope, never burnt anything, overcooked a dish or forgot to add a key ingredient. Never ever.
*shakes head and tries to look innocent*
About a month back I was contacted by the editor-in-chief of Saveurs magazine's
Russian edition
about featuring my
Baby Potatoes with Asparagus and Caper Dressing
in their May-June publication in a section called
A Votre Santé!
where they invite healthy food bloggers to share recipes and stories. The theme for this particular issue is spring vegetables, which for Russia is later then most of the United States.
Thankfully they sent me a PDF of the article. Which is in Russian, so I had to have a little help with the translation.
The first draft I put together to send to them went something like:
Meet Amy of the blog, Beloved Green. She is a cat lady who loves to crochet and needs at least two caffeinated drinks per day to survive. In her free time she recites Starwars episodes IV, V, and VI by heart to folks she meets at the grocery store. She loves her wine.
But then I remembered I tried to be a bit more respectable --
it is my first published recipe after all-
- and with the help of Google translate it came back with a bit more finesse:
Amy lives in the Northwestern United States by the ocean where it is green (this explains her name, ha) She is a long distance runner and practices yoga, so it is necessary for her to have a diet filled with nutrients and sustenance. Amy dreams of having a small plot of land and growing the foods she cooks with.
A delightful nod to the other bloggers were also featured in this issue: