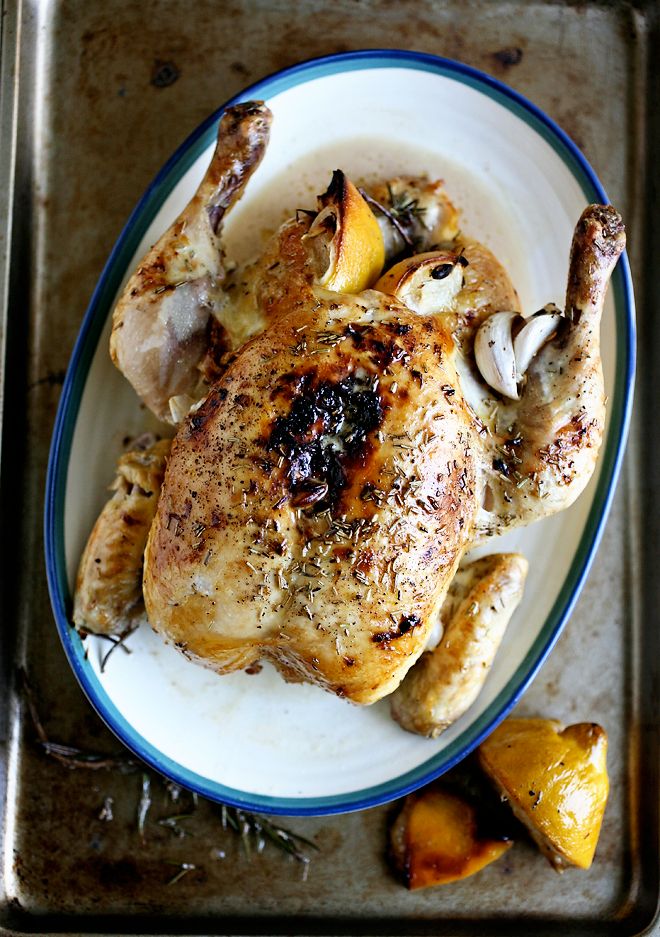 My mother was never an avid cook. She whole heartily admits her talents go nowhere near the kitchen and would rather clean the entire house then make a meal from scratch. Many years ago she surprised me with a roasting pan. Her only explanation, "Someone in the family needs to make Thanksgiving Dinner."
For her, the roasting pan was pulled out once or twice a year for holidays. I remember the savory smells on those special occasions, but they were far too rare.
Whenever I see a recipe that provokes the juicy flavors percolating in a pan and rising out as the lid is lifted, I know it must be tried -- especially when it is as simple as this Roast Chicken with Lemon Cream Gravy, another What Katie Ate find with a little Beloved Green variation.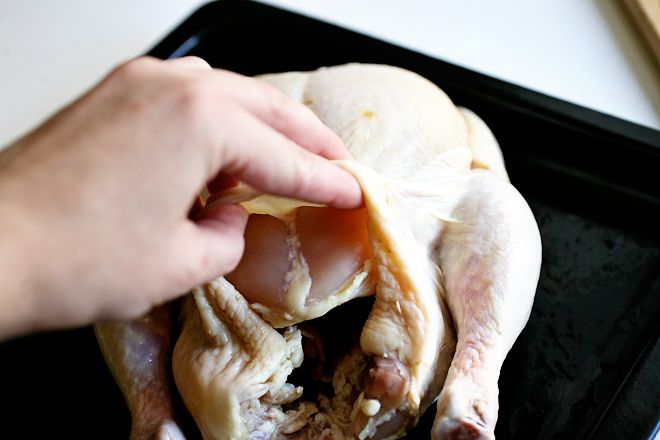 1 2 lb free-range, organic, local chicken
3 pats of butter
sea salt and pepper
3 lemons
4 bulbs of garlic
4 sprigs of Rosemary
Olive oil
1 1/2 cup of chicken broth
3/4 cup heavy cream
Juice of 1/2 a lemon
Begin by preheating the oven to 400
°F. Bring the chicken to the work surface and begin pulling the skin away from the meat, you may need to use some kitchen scissors to pull it back on the inside. Take the pats of butter and begin massaging into the layer created, with the remainder being rubbed on the outside of the chicken. Season the chicken well with salt and pepper and get ready to move it to that beautiful roasting pan.
Place two Rosemary sprigs into the chicken's cavity and two outside to bring that aromatic flavor up. Quarter the lemons and place several into the chicken and the remainder in the roasting pan. Separate the garlic into cloves and add several in the cavity as well, the rest around the chicken.
Take the olive oil and drizzle over top and give a final dash of salt and pepper.
Put the pan in the oven for approximately 30 minutes, and then pull out the pan and take the lemons quarters and squeeze the all over the bird. Put the chicken back in for another 30 minutes. When finished, take from the roasting pan and place on a platter, cover, and allow it to rest while preparing the gravy (approximately 10-15 minutes).
Bring a sauce pan to low heat and add the chicken broth along with the juices from the roasting pan, including all of those little bits of goodness stuck to the bottom. With a whisk, stir in the heavy cream and lemon juice. Top it off with a bit of salt and pepper to taste. Serve by pouring over top of the rested chicken.