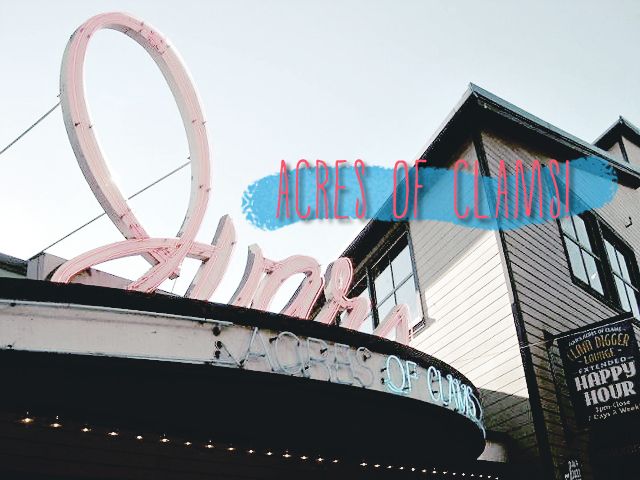 A couple weeks ago I had some visitors from my native Midwest. Having lived in the Puget Sound area for a year now, it was high time I put to use my new-found knowledge about the area and be the tour guide.
To be quite honest, I have not done a lot of the usual tourist activities someone might do if they visited Seattle. I told myself I would wait to do them when I had visitors from out of town so we could all enjoy them together.
So off we headed in my grandma-mobile to navigate around the city. We stopped downtown for a vinyasa yoga class, walked around Gasworks Park, even took a stroll through the Arboretum. Best of all we saw the Fremont Troll.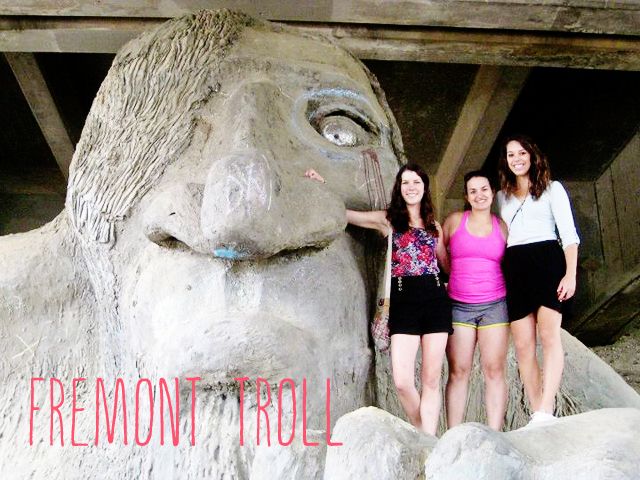 (photo stolen from my friend *maniacal laugh inserted here*)
For dinner we embraced our inner tourist and sat our little selves down at "Ivar's Acres of Clams". We opened up our menus and immediately looked at each other.
Now is the time were I sidetrack and mention that we are Midwesterners through and through. I know beef, brats, and beer. I do not know seafood.
I grew up fishing for Bass, Bluegill, Bullhead, and Carp. My little bamboo fishing pole could pull in some small Crappie, Herring, Perch, Pike, Trout, and even on occasion some Walleyes. Sturgeon spearing season was huge in our area, but I really did not enjoy sitting out in the ice shanty with my dad for hours on end in the freezing cold. And I fairly sure my little bamboo fishing pole
could not
reel one of this beasts in.
But any Salmon in our area were transplanted and not native to our little lakes. It was almost like a foreign food.
Our server--
who undoubtedly was used to naive fish eating tourists
--explained the options on the menu. After we looked over the menu, we came to a common question.
"What makes this salmon a King Salmon?"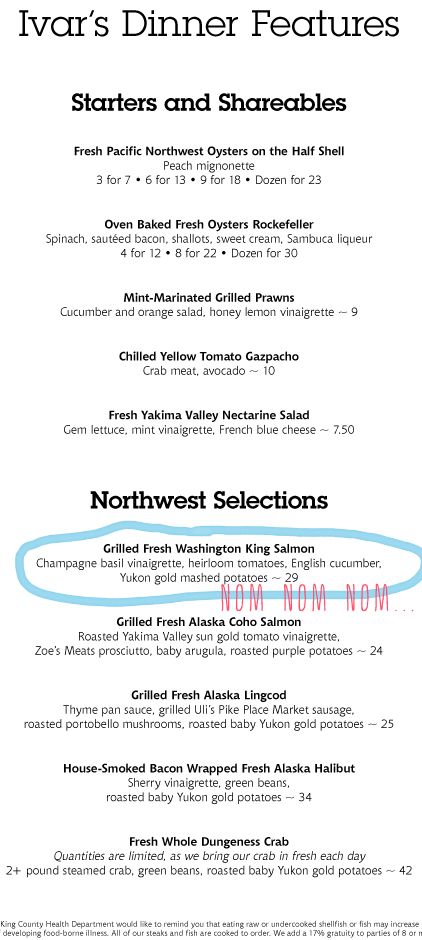 King Salmon is not really a breed of fish on its own. It is a large chinook salmon, starting in at about 10 pounds and weighting typically around 25 to 60 pounds.
These are some massive fish. My bamboo pole would definitely not survive reeling one of these in.
The Ivar's menu even included a map of where the King Salmon they were cooking would be coming from depending upon what time of year it is. Early in the season it may be down by California where the waters were a bit warmer, all the way up to the infamous Alaskan King Salmon in the later months.
Taste and appearance-wise, the wild King Salmon has a bright, almost pinkish color. It did not have as much of a "game" flavor as some other fish I have eaten. The Wild King contains more omega-3 oil then other Salmon varieties, excluding Farmed Atlantic Salmon-- which probably contributed to why it tasted so darn good.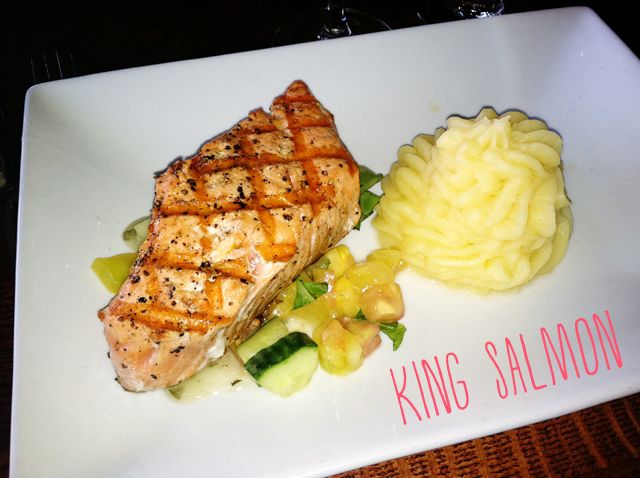 Here is my well prepared king salmon on a bed of cucumber, tomatoes, and topped with a champagne basil vinaigrette. Delightful.
On a final note, when eating out or purchasing fish, make sure to check out
Seafood Watch
for the most sustainable options. It is one step that we, as consumers, can take to make sure we are making healthy choices for our oceans. They now have a smartphone app that you can download and take with you wherever you dine.
Question of the day:
How knowledgeable are you about seafood?