I loved all of the great healthy tips you guys left in the comments of the Beloved Green
OXO 5lb Food Scale Giveaway
. Before I announce the winner I did not want those fabulous suggestions to go to the comment graveyard, and decided to give them their moment to shine.





So without further ado, I put everyone's entries onto a spreadsheet with a total of 39 entries. I put that into
Random.org
and came out with: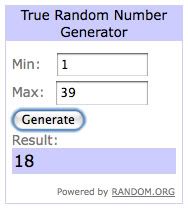 #18, who was on the spreadsheet:
Which made me smile because it is
Jacquelyn K
--
congratulations
!
There will be more Beloved Green giveaways in the future, so stay posted!