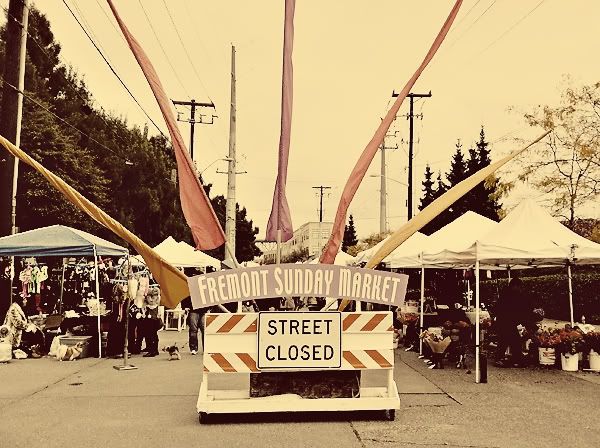 Day 13 of being without my kitchen gear. In an effort to console myself, I took a drive up to the
Fremont Sunday Market
.
I am going to digress a moment to my brief time studying in London. As a college student on an exceptionally tight budget, I remember writing down in a journal every single expenditure I made down a pence. Wasting money was not an option, but neither was sacrificing the ability to truly enjoy the city.
Every and any free activity there was,
I attended
. Tube fairs could add up, and to compensate I would walk across the entire span of the city. Thankfully, a lot of experience is compacted into a walkable distance.
One of the best free activities, hands down, is walking through the various London markets. Camden, Portobello, New Covent Garden, Greenwich, amongst others. Each had their own personality and cast of characters.
In a smaller scale, Seattle's markets have the same feel. Some specialize in foods, others in quirky goods. The Fremont Sunday Market was my destination this afternoon. One of my goals since moving to Seattle is to plan a Sunday afternoon trip to some place in the city or surrounding area every weekend. I want to learn about the city and embrace it.
A new Seattle friend recommended it, and I was up for the challenge. Now I will admit, even though it it is fall and chilling, and I imagine the crowds were slightly lighter then the thick of summer's good weather, I still had a hard time finding a place to park. After perusing the nearby streets, I found a spot at the top of a hill, turned the wheel into the curb, and pulled the emergency break.
Walking down the hill, I turned down Fremont and was immediately met with a distinctive incense smell. Yes, this does remind me of a mini Camden.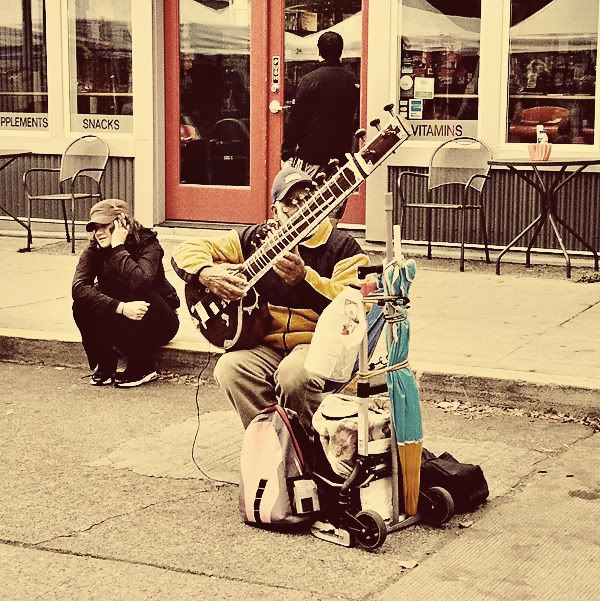 The booths were neat and tidy, nestled in one right after another. Snacks, antiques, and tchotchkes were in each stall. Some were homemade, some found pieces, others looked like they just walked out of a dumpster -- albeit a very vintage styled dumpster.
The usual buskers are there, peddling eclectic music and providing a bit more to the atmosphere.
A long time market vendor named Nico, is requesting a customers shoe size as he digs through his pile of gently used footwear. A hopeful patron looks on as he tries to find a unique pair.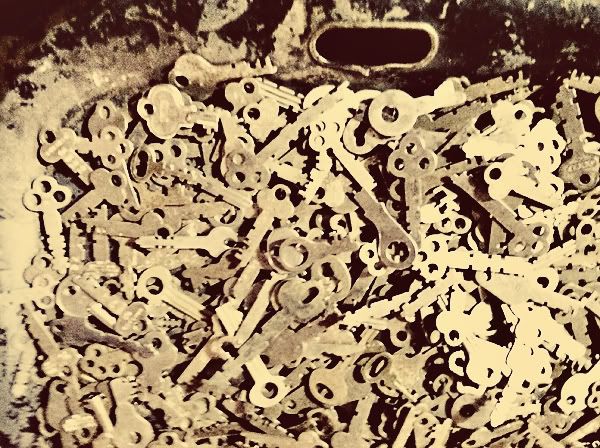 My favorite part of the market is the vintage goods crowded into the underground parking garage. Immediately I think of my good friend Rachel. She could sort the treasures from the junk with perfect appraisal accuracy. Unfortunately for me, I could not tell you what is a good vintage investment. Instead, I am drawn to what looks beautiful, like the keys and stamp plates.
The "shop" owner tells me that many of this trinkets were collected in Germany over the last couple decades at a factory. Eventually they just wanted to get rid of the excess items, but he astutely swept in and claimed them before their demise in a landfill.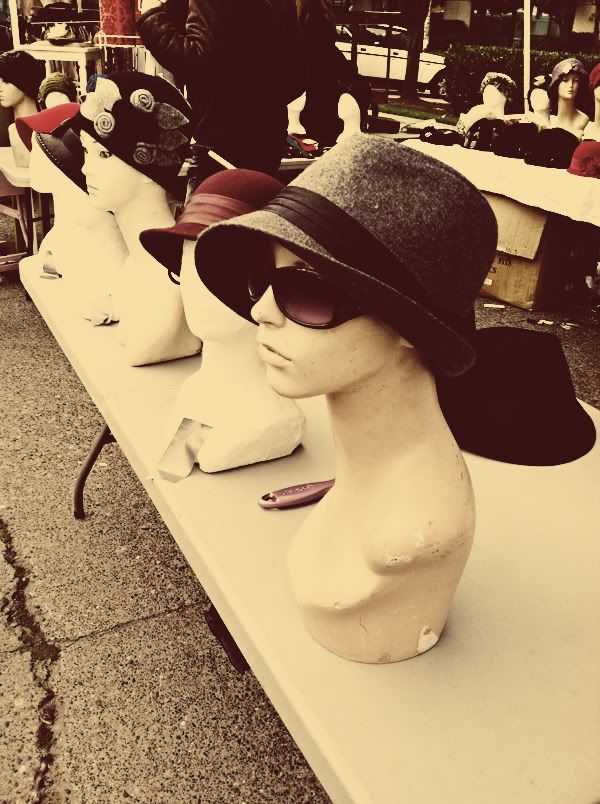 In the Fremont neighborhood Starbucks is not the star coffee shop, that honor belongs to a little street vendor. However, there is still one around the corner -- this is Seattle after all.
Of course there is the one booth that has something I have never seen at any market. Whereas Camden has a tattoo parlor at every corner, Fremont has a semi-professional portrait photographer. He proudly shows off his portfolio, including his three sons in the same pose every year from their elementary years through graduation. He explains proudly,
"I had this theory that little kids are cute, and then it all goes downhill. These photos prove it."
I hope his sons never read this.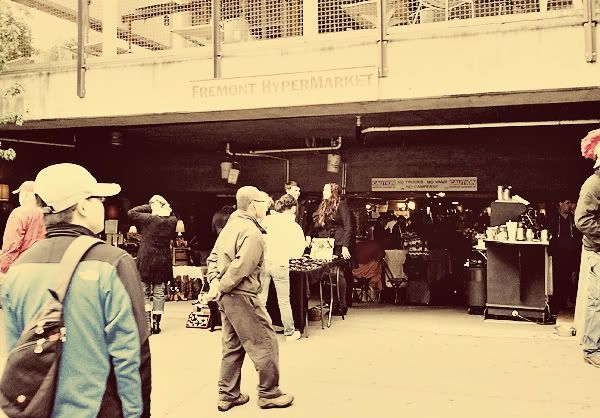 The Fremont Market was not as large as I thought it was going to be, but it was an easy little walk. All the vendors were very passionate about their products, and like most markets of this kind, the early bird gets the best tchotchkes.
Fremont is delightful because it has personality. The market is not overgrown, and it fits meshes into bohemian style of the local neighborhood. It definatly made the sting of Day 13 without pots and pans a little bit easier.