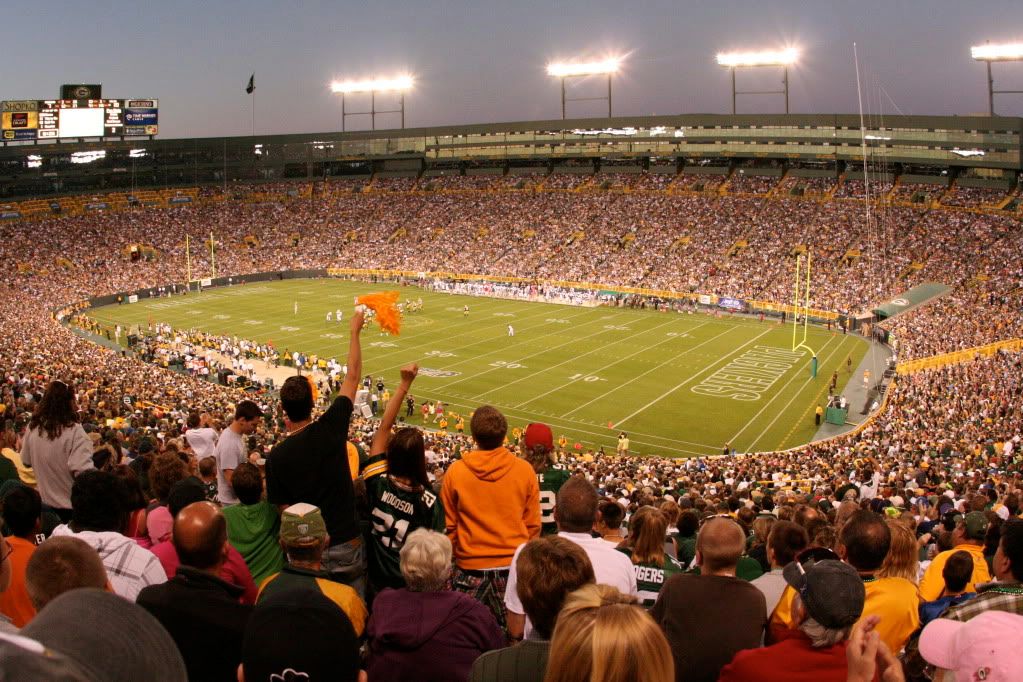 I love football! And I have a great deal of hometown pride for the Green & Gold. In my family we grew up celebrating the game, and right now I enjoy watching my little nephew play in a youth league on weekends.
A part of that tradition of Titletown is the tailgating. Beer, brats, and cheese. Welcome to Wisconsin.
And least you doubt our loyalty, the highlight of the Green Bay Marathon is at the very end of the race where we take a lap around Lambeau Field. In fact it is probably the only reason I made it to the end of this race, because with the 20-40 mph wind gusts from miles 16-21, I just keep chanting, "
Touch the Tundra, Touch the Tundra
."
Bonus karma points to anyone who can guess which runner in this clip is me.
My challenges
As part of Foodbuzz's Tastemaker Program I received a waste management kit from Glad, along with a consultation with their waste management expert, Keiko. The challenge, to make my home reduce the amount of waste produced, and recycle or compost what remained.
I also know I face another challenge in being as green as possible: my small living space. I love my second floor apartment to pieces, but the result is a lack of personal green space for gardening. It is something that many people face.
As much as I dream of digging up a little plot of land next to my building, I am fairly certain my landlord would not be pleased.
Sigh
.
I also know that I am not allowed to have a composting area on my deck. Another setback. They mentioned something about the "stench upsetting neighbors". I wanted to reply,
"
It is the smell of nature people!
"
Not only do I want to solve a few of these common space problems -- but I am putting together my own personal challenge of creating a sustainable Green & Gold tailgating experience.
I also want to make my local resources more accessible to the greater community. Our city has created a Sustainable Committee and put together several local green initiatives. The problem lies with there being a lack of visibility to these amazing projects. And folks like me in my small space could truly benefit from several of them.
As part of my kit from Glad, I received this perfect mini compost bin. It is only about a foot tall, so it fits perfectly below my kitchen sink. It is lined with compost bags that decompose at a much faster rate then traditional plastic bags. With a filter in the top it keeps the smell down in my small apartment, and appeases my apartment manager.
To start testing it out and make sure the smell is kept at bay. I am a huge fan of
Kale Chips
, but for a football game where they are going to be shared, these stand up well. I also prefer to make my own chips, because you can purchase the potatoes and use your own reusable shopping bag to carry them. Once they are baked, the chips can be stored in a reusable container, whereas store brought chips come with packaging that is going to generate more waste.
To make the potato chips
Preheat the oven to 350 degrees F. Peal a potato, and cut into thin slices (about an 1/8th of an inch thick). The peals can be composted. Coat both sides sparingly with light olive oil and sprinkle garlic salt on one side. Bake in the oven for 10 minutes, but watch to make sure check halfway through so they do not burn. Pull out and allow them to cool.
I like to dip my dip in a homemade ranch dressing, which you can see pictured above in Glad To-Go Snack containers with the lid inset.
Part II of my Tailgating Green with a tiny Apartment will be posted later next week. More tailgating snacks and decorating sustainably.