Part 1 of the Tailgating Green with a Tiny Apartment can be found here.
If I am going to a football or baseball game and tailgating in the parking lot, or staying at home to host, I have what is considered a general kit to keep the festivities rolling. Quite honestly, seeing the trash after folks clean up their area makes me a bit wary. Especially if I am hosting a party at home and I think about all the consumption that is going into a landfill.
These are Beloved Green's top 10 items to bring along to a tailgating experience to help keep it green.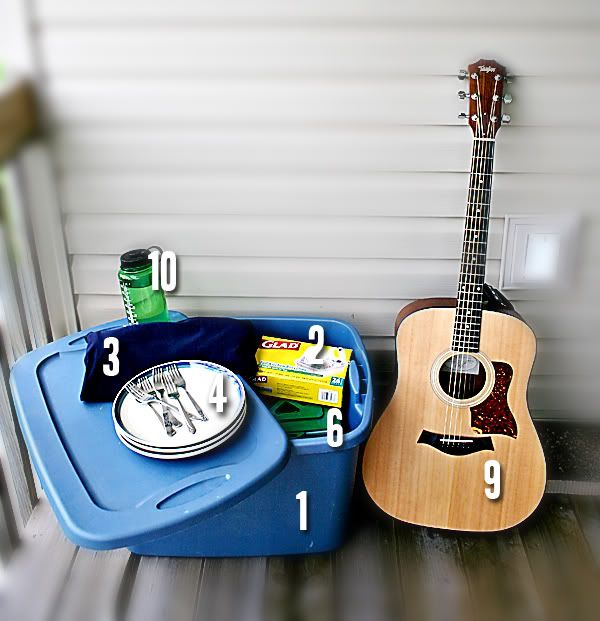 A Large Tub.

It serves as the storage for bringing everything to the tailgating party, but during the party it doubles as the recycling bin.

Recycling bags

. I always throw in a couple extra to grab cans and bottles from neighboring tailgate parties who might throw theirs out instead of thinking green.

The Tablecloth

. aka an old twin size sheet. Not only is it washable and reusable, but it is given a second life instead of being tossed into the great dumpster in the sky.

Old Plates & Dishware

. Instead of using paper plates and plastic silverware that is only going to get one use, I have a stock of mismatched plates and silverware for game day. Picking up one or two plates at rummage sales is a bargain, and saves them from being put in a landfill. Put out a dishware collection bin to wash and reuse at the next event.

Old Team Shirt Napkins

. Over the years I have collected quite a few team shirts, and most have seen better days. Instead of bringing along paper napkins, I have cut up some old t-shirts and bundle them in a basket. Collect them in a basket to wash and reuse again.

Portable Compost Bin

. Some of the snacks at my tailgate are going to be of the healthier variety; apples, strawberries, cherries, oranges. Instead of tossing out the core, pits, and peals, my buddies can toss them straight into the compost bucket. Of course reminding them that no animal products can go inside.

Drop the packaging

. Instead of grabbing the bag of chips, encourage the use of homemade snacks that do not have the package waste, taste just as good, and can be a much healthier option. Looking for something good to eat, try out these Kale Chips or these Oat Berry Bars which travel well.

Carpool and Bike to the game

. It may sound simple, but folks are hard to convince to leave behind their cars. A group of my friends put together a tailgate before a Brewers game, and decided to save on parking money and bike in together with only one car to hold a spot for us in the lot and carry our supplies. Not only did the bikers beat out the post-game traffic, we helped to reduce our carbon imprint.

Bring the guitar.

This one always makes us a popular place to hang out in the lot. Granted, you need to know someone who actually plays, but instead of wasting energy to run a stereo we pull out the guitar and sing a little ditty.

Use frozen water bottles in the cooler

. Instead of wasting money on ice from the convenience store to bring the temperature down in the cooler, fill them Nalgene bottles that have frozen water in them. Fill the bottles the night before about halfway full so there is room for them to expand, and by the time you leave for the game they are ready to go. A bonus, by the end of the game when you need something to cool off on the drive/ride home, the water should be mostly melted and still cold.