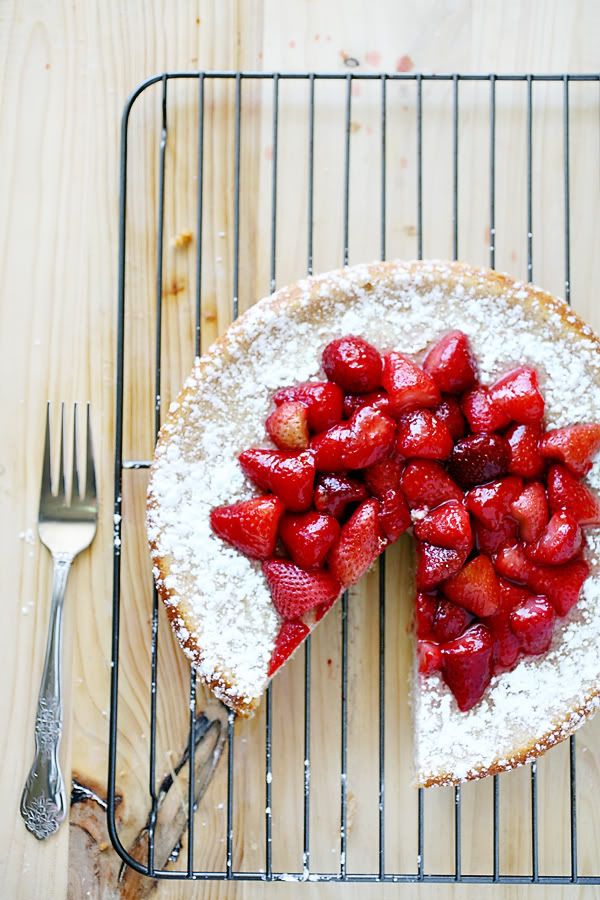 I ran three miles this morning.
And like after every run in my house, to celebrate, I bake a cake.
This makes logical sense to me. For some reason my mother disagrees.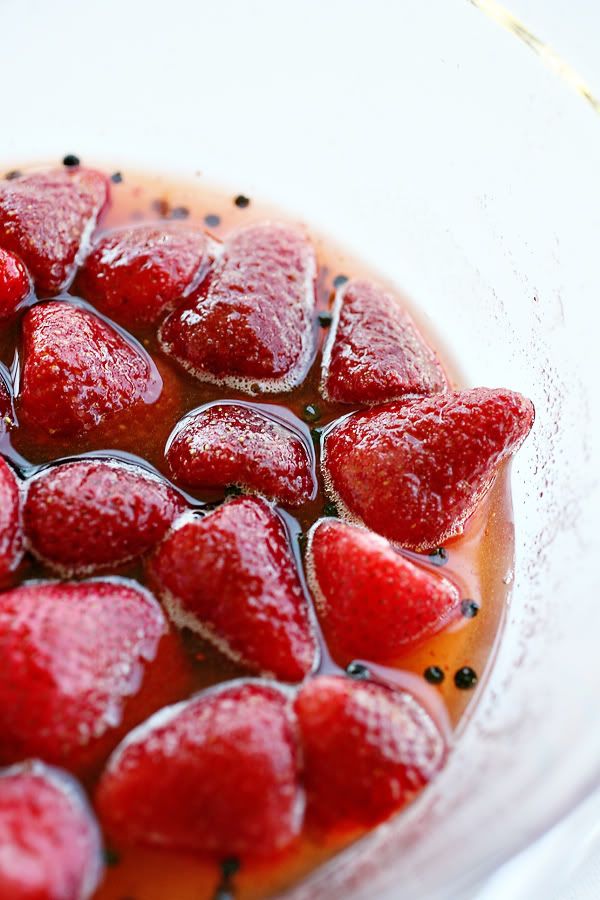 I had the original variation of this Strawberry Ricotta Cheesecake bookmarked for a couple weeks now and at about the mile mark I started thinking about strawberries. By the 2.5 mile mark I was loosing too much water by salivating.
Not my best running moment.
By the way if any of you out there are Dailymile folks,
come be my friend
! I ran a marathon this past spring and then fell off the bandwagon. I need all the support I can get.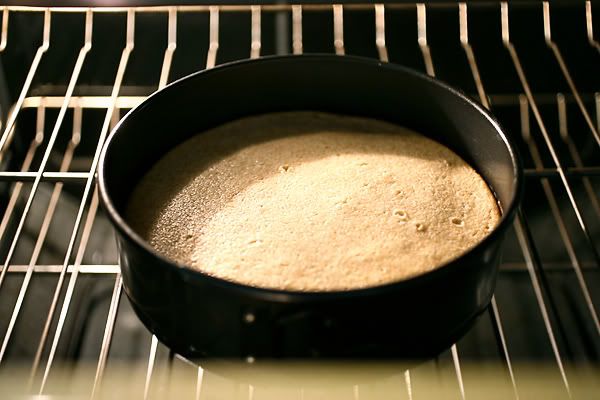 Anyways, back to the cake. I had a bunch of ricotta sitting in my refrigerator begging to be used.
Not to mention some strawberries that needed to be gobbled up to make more room for -- well, probably more strawberries -- when I go grocery shopping tomorrow.
I have to say, I love this cake, because it is sweet without being too sweet. Even though there is enough sugar in there to make you think otherwise. It is also not heavy on the stomach.
Best of all, it is versatile. I can see bringing it to a breakfast meeting , an after dinner dessert, or even a tea party. Because I go to oh, so many tea parties.
It could happen.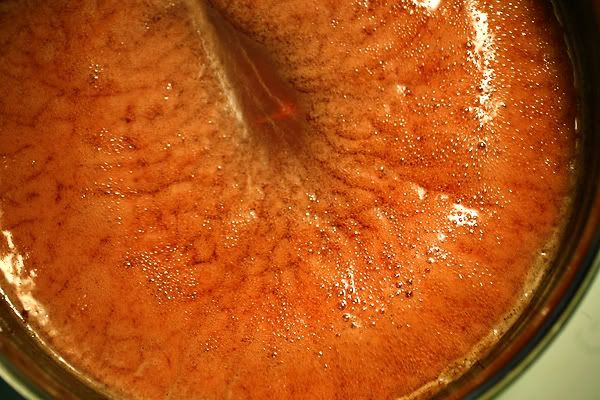 The Shopping List:
For the berries and sauce
2 cups of strawberries
2 cups of sherry cooking wine
1 1/2 cups of sugar (1 cup for macerating and 1/2 cup to help thicken the caramel)
1 teaspoon of black peppercorns
For the cake
3/4 cup softened butter
3/4 cup granulated sugar
2 tsp lemon juice
1 cup full-fat ricotta cheese
1 teaspoon vanilla extract
1/2 cup egg beaters
1/2 cup liquid egg whites
1/2 cup plus 2 tablespoons wheat flour
2 teaspoons baking powder
powdered sugar for dusting
dash of salt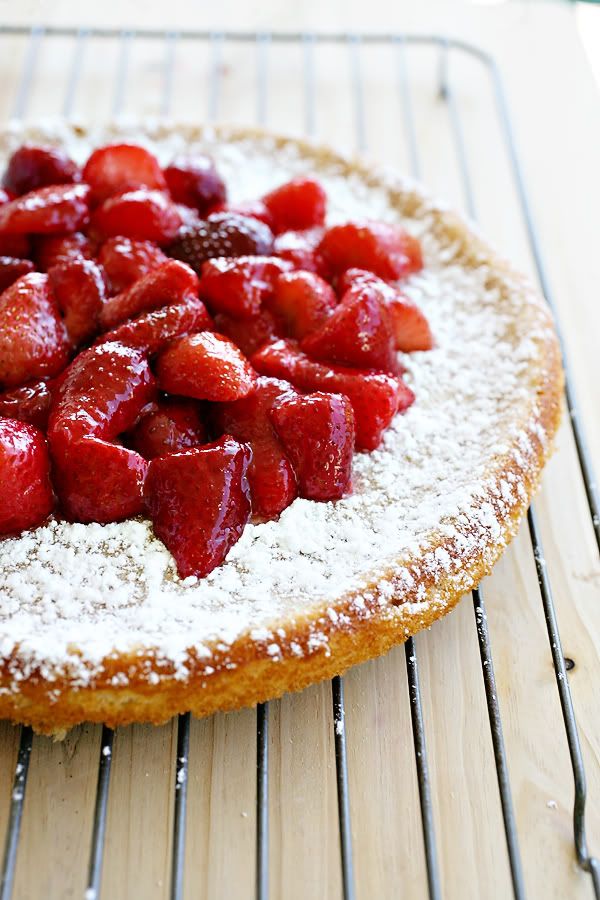 The Method:
For the berries and sauce
Macerate the berries by combining the strawberries, sherry cooking wine, 1 cup of sugar, and peppercorns in a bowl. Cover the bowl and put in the refrigerator where it will work its magic for at least 6 hours.
Using a strainer over an empty bowl, pour in the wine/sugar/berries. Take the berries from the strainer and set them aside, pulling off any stray peppercorns.
In a sauce pan, pour in the liquid sherry cooking wine that was left over, along with the remaining 1/2 cup of sugar. Allow the sugar to dissolve over medium heat. Once the sugar has dissolved, bring it down to a low heat, and allow it to for a syrupy consistency -- about 20-25 minutes. Set aside to cool.
For the Cake
Heat the oven to 325
°F. Butter a small springform pan and set to the side.
In a bowl, cream the butter and the sugar. Add in the ricotta cheese, vanilla extract, lemon juice, and egg beaters.
Pull out another bowl (nothing like making some dishes) and mix together the wheat flour, dash of salt, and baking powder. Pour the dry ingredients into the wet ingredient bowl and combine thoroughly. Lastly, gently fold in the liquid egg whites. Pour the mix into the springform pan.
Bake in the oven for 45 minutes, or until the edges start to turn a lovely golden brown color. Pull off the ban, and allow to cool.
Using a strainer or shaker, dust the cake with powdered sugar. Place the strawberries in the middle of the cake. Serve with the sherry wine syrup.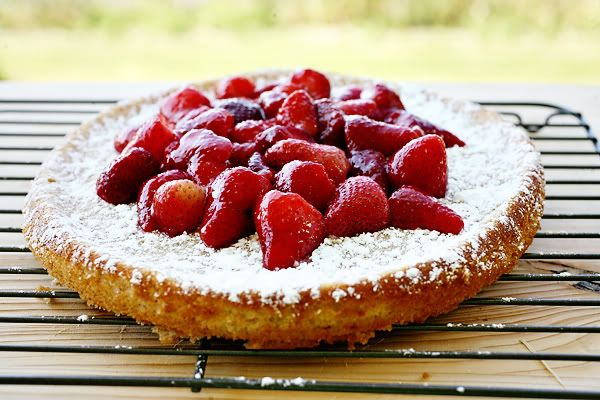 And for your viewing pleasure, this is my little beauty named Skye. She watches over me to make sure I am baking something good, and I reward her with a lick of my batter spoon.
The arrangement works well for our household.