This month I am in the transition of moving from the midwest to the northeast US. It is over 2000 miles of travel to relocate. The process is tedious at best, but for a foodie it is even more nerve-racking.
Much of my favorite cooking gear is packed. I am trying to work down the stock of food in my kitchen. And working with just pure staples is difficult, but buying more food with the potential of just tossing it in a few days is not this green girl's idea of being waste conscious.
So for this months Foodbuzz's 24x24 challenge, I decided to take a different approach: prepare an entire meal with only what was in my cupboards and left of my staples, while only buying one extra ingredient.
First up to dish, is the main course, a nine ingredient dish: Bulgur and Chickpea Salad. I love this because it is rich in nutrients, and extremely filling. Most importantly, it uses all the fresh food I have left in my fridge and uses the one ingredient I had to buy at the store: fresh dill.
Simple and refreshing.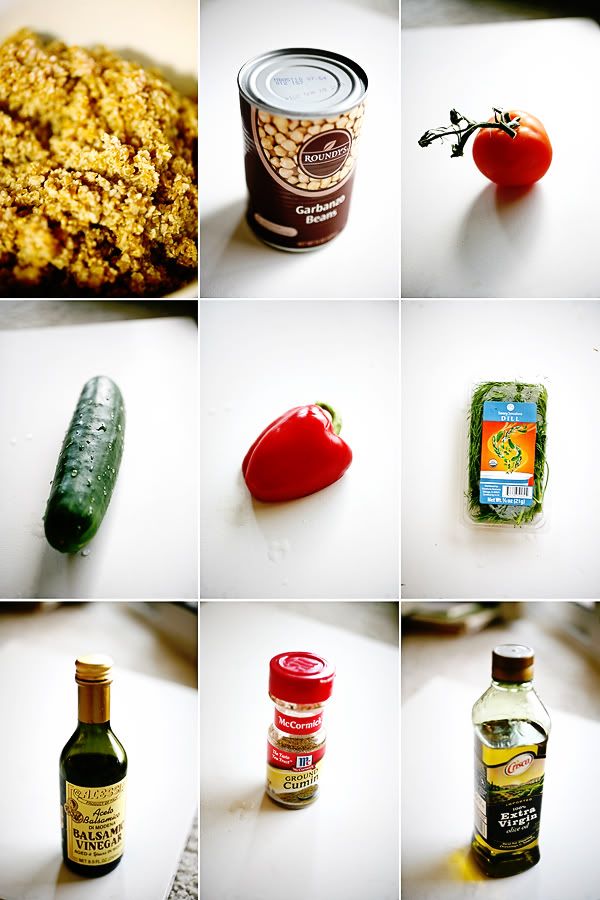 2 cups whole grain bulgur wheat

4 cups cool water

1 15- to 16-ounce can chickpeas, drained

1 vine tomato, diced

1 cucumber, diced

1/2 red bell pepper, diced

2/3 cup (packed) chopped fresh dill

1/4 cup balsamic vinegar

1 tablespoon ground cumin

1/4 tablespoons olive oil

Dash of salt and pepper to taste
The Method:
In a small sauce pan, cook the bulgur wheat in water on medium heat until it has absorbed the H2O and has almost a rice consistency -- takes about 10 to 15 minutes. Set aside to cool.
Take the cooled bulgur wheat and mix in the chickpeas, tomato, cucumber, bell pepper and dill. Mix well.
In a small jar mix the balsamic vinegar, olive oil, cumin and a dash of salt and pepper. Shake and drizzle over the bulgur wheat salad before serving.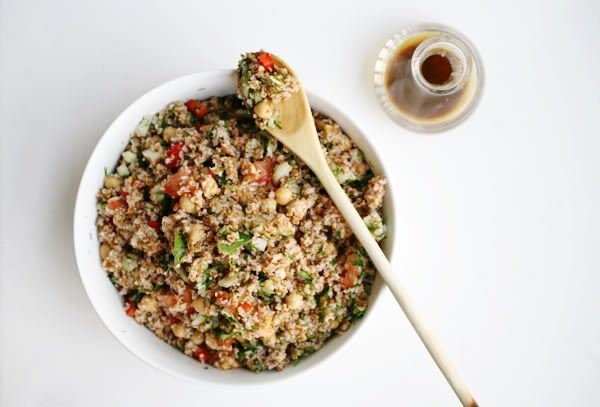 ***** BG *****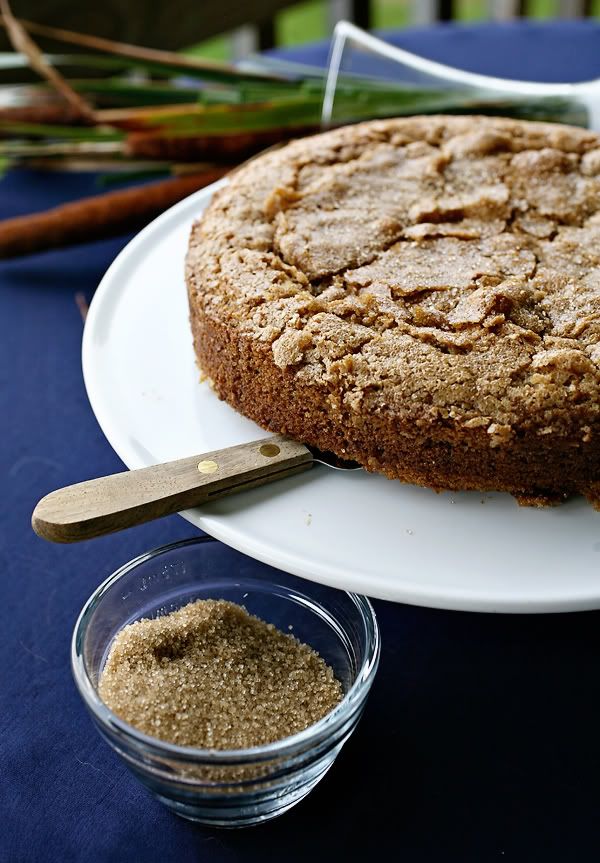 Next up on the list is a simple Cinnamon Coffee Cake. This one has the largest ingredient list at eleven. However, it pulls out the staples of my kitchen.
Someone asked me in the comments a while back what egg beaters are. For my non-US readers, they are a liquid egg that is only made from the whites. Many times there are extra vitamins and nutrients added to it. Because it does not use the yoke, it reduces the amount of fat and cholesterol taken in. I substitute them into recipes all the time.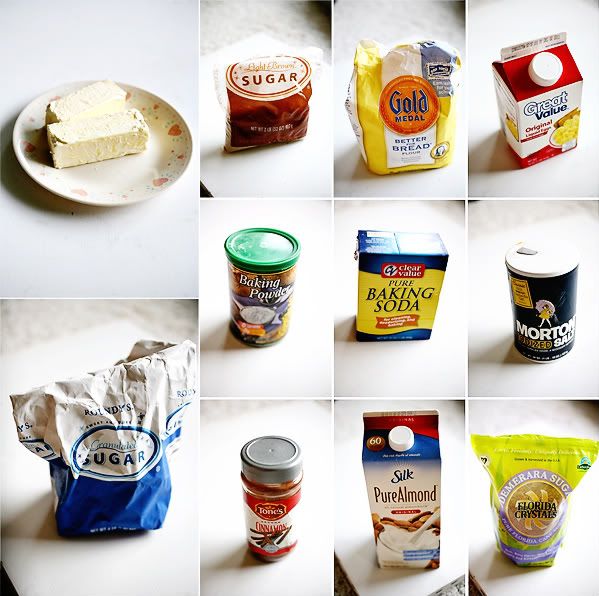 The Shopping List:
1

cup granulated sugar

1/2 cup egg beaters

1 cup

almond milk

1/4 cup demerara sugar
Preheat the oven to 350
°F
. In a bowl mix together the butter, granulated sugar, and brown sugar until smooth. Slowly pore in the egg beaters and continue to mix.
In a separate bowl mix together the bread flour, baking soda, baking powder, salt, and cinnamon. Add into the wet ingredient bowl. Pour in the almond milk and give it one last thorough mix.
Grease a 9 inch round baking pan, and pour in the batter. Bake for approximately 35 minutes or until it has a cake like consistency.
And last but not least, I made a smoothie for a refreshing drink. I make this little bugger almost every morning after a good run. I add in the whey for a bit of protein, but this is not a necessity.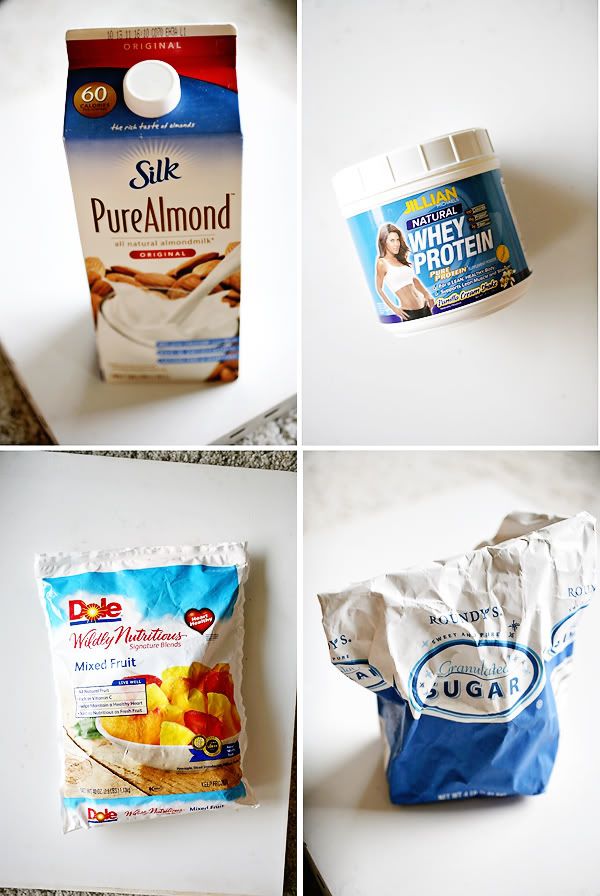 The Shopping List:
1 cup mixed frozen fruit
1 cup Almond Milk
1 tsp sugar
2 Tbsp whey powder
The Method:
Simple as can be, in a blender, add in the fruit, almond milk, sugar and whey powder. Mix until fruit is smooth. Add in more almond milk if it is still on the thick side.
***** BG *****
And there you have it, a meal based on the staples. It is something I am going to challenge myself to do more often when I move into my new home and make sure I am using up those foods with expiration dates.