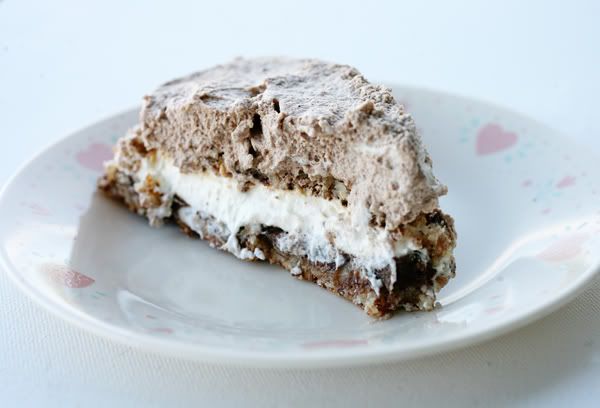 During my travels this summer to Scandinavia, one of my fellow chaperons become a "
dessert bosom buddy
" aka
DBB
of mine. In every city we would stop at, we would buy tasty treats and split them to double our sweet tooth cravings.
In Stockholm, we stopped at the
Nordiska Museet
where their goal is to preserve Swedish history through the ages and into the modern times. With a Stockholm Card, visitors can enter the museum with ease and tour the standing exhibits.
My DBB, Gary, was touring the gift shop with me when we happened upon a Swedish cookbook from the 1940's that was translated into English. Our eyes both widened as we proudly lifted the Holy Grail of delectable desserts to the cash register.
Gary's fantastic wife is now the proud owner of this cookbook, and she is slowly making her way through. Every time she finds a recipe that works to her liking, she makes a little extra, packages it up, and Gary delivers it to my place in the morning before work.
So even now that we are back in the good ol' U.S., I am still happily eating Swedish.
Imagine my happiness when I receive a phone call from Gary last night that begins, "
I'm stopping over tomorrow morning--you have to try this!
"
I become a little giddy, and seriously could not sleep. And promptly at 7am this morning, I hear the door bell ring. Gary stands proudly holding a Tupperware container in his hand. We exchange pleasantries, but right now I can only think about this dessert.
Sweets for breakfast, I have no problem with that.
Swedish Almond Cake, I adore you.
Swedish Almond Cake
The Shopping List:
Cream
1/2 cup sugar
1/2 cup water
4 egg yokes
150 g butter
75 g dark cooking chocolate
Cake Layers
1 cup almonds or hazelnuts
1 cup sugar
4 egg whites
Topping
1 cup whipped cream
Dark cooking chocolate
The Method:
For the cream, boil the sugar and water at about 240
°F. Allow to cool for a few minutes, and then add in the egg yolks with a hand mixer. Drop the butter into the pot. Meanwhile, melt the chocolate in a double boiler and pour into the mixture as well. Allow to cool slightly, and then put in the refrigerator to cool for a couple of hours.
Next up is the cake layers. Trace two circles (aprox. 7.5 to 9.5 inches) on parchment paper. Grease and flour the paper. Grind up the almonds and mix them with sugar in a bowl. Whisk the egg whites and then add them to the almond/sugar mixture as well. Spread onto the parchment paper and bake at 350
°F for 15 minutes.
Once it is baked pull out of the oven and allow it to cool to room temperature. Pull the cream mixture out of the refrigerator and spread it over one of the cake layers. Take half the whipped cream and spread it on as the next layer. Place the other cake layer on next and spread the rest of the whipped cream.
To finish, garnish with grated chocolate, or leave it plain.
Enjoy!