The Salmon was on sale. I've been craving fish since my trip to Stockholm. There really was not much convincing that needed to take place beyond that.



Wellllll

...I may have also wanted to make a really nice meal for my Mum. She babysat my kitties while I was away. And as the "Cat Lady", I had to show my appreciation in true foodie fashion;

Salmon with Coriander Rub and Lime Cream

.

The Shopping List:
1/4 cup ground coriander

4 teaspoons ground cumin

6 tablespoons extra-virgin olive oil plus additional for brushing

4 large garlic cloves, pressed

3 teaspoons finely grated lime peel, divided

1 lb skinless salmon fillets (each about 1 inch thick)

pepper to taste

sea salt to taste


6 tablespoons Greek yogurt

3 tablespoons fresh lime juice

Chopped fresh cilantro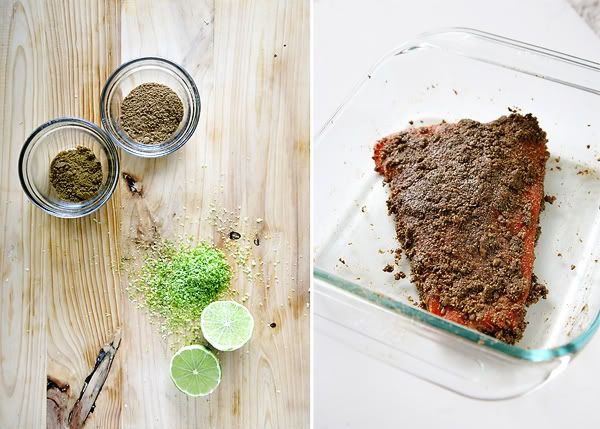 The Method:
Bring a small pan up to medium heat and toss in the ground coriander and ground cumin. Stir consistently for two minutes so the spice does not burn. Pull pan from heat and set aside.

In a 9x9 inch glass baking dish, pour the spices in along with the olive oil and 2 tsp of the lime peel.
Mix well.
Add in the salmon strips and coat the sides of the fish with the spice mixture. Cover and put in the refrigerator for an hour (or more to intensify the flavor). Make sure to turn the salmon at least once during the marinading.
This is where I toss on some
Joss Stone
and dance on the linoleum in my kitchen.
Breaking out the moves--
booyah!
Shimmy over to the oven about ten minutes before your going to pull out the fillets and preheat it to 450
°F. Pull out a baking sheet and use a bit of olive oil to coat the bottom. Take the salmon fillets out of the refrigerator, and pull off the access spice mix, leaving just a little to give it some flavor. Place the fillets on the baking sheet with a little bit of space between each one. Top with a dash of pepper and sea salt to taste.
Place the baking sheet into the oven on the top rack and allow the fillets to cook for about ten minutes.
While the fillets bake, pull out a small bowl and mix in the Greek yogurt, lime juice, and the remainder of the lime peel. Add in a touch of pepper and sea salt.
Pull the fillets out and top with a dollop of the Greek yogurt mix. Add a bit of cilantro to the top before serving.
Voila!
A refreshing meal.