These
Sandwich Coasters
gave me a bit of a chuckle. Found via
swisssmiss
.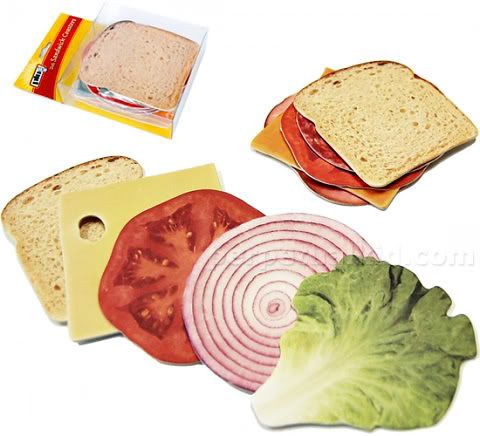 When I stumbled on this blog posted this week from Flour Dusted for
Caramel Brownie Pie
, I nearly cried with happiness from its awesomeness. Then I recovered and started baking.
Speaking of awesome recipes, I am putting this in for now so I remember to check back and throw some together this week:
Sweet Potato Fries with Avocado Aioli
by
Eat.Drink.and Be Merry
. Seriously a major YUM!
My seriously favorite treat of all time is Raspberry Sherbet. My mom would get me a small cone whenever we would go to the local petting zoo when I was a kid. So my happy little taste buds perked up when I saw this
Raspberry Buttermilk Sherbet
on
Like Mother Like Daughters
this week. Brilliant.
One video is related to food, the other is just moving. Both beautiful to behold. 3 guys, 44 days, 11 countries, 18 flights, 38 thousand miles, an exploding volcano, 2 cameras and almost a terabyte of footage. And I imagine a whole boatload of editing.
EAT
from
Rick Mereki
on
Vimeo
.
MOVE
from
Rick Mereki
on
Vimeo
.