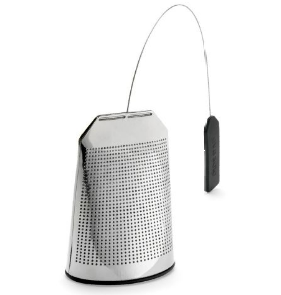 As a obsessive tea drinker, and a difficult person for folks to find a gift for, let me offer the following gift suggestion, this beautiful
Tea Infuser
designed by Claus Jensen and Henrik Holbaek.
This is especially pertinent since mine just bit the dust. I'm a fan of loose, fresh tea and appreciate the sleek design and sturdy craftsmanship of this reusable tea-bag infuser. Notes from the website:
"This reusable tea-bag-shaped infuser easily fills with loose tea and is made of stainless steel with a wire and a silicone base and tag. Makes a cup or a pot. Dishwasher-safe."
A step up from my dollar store find that always snapped open and set the loose tea free in my cup. At $30 though, it comes with a bit of price tag.
(
via swissmiss
)