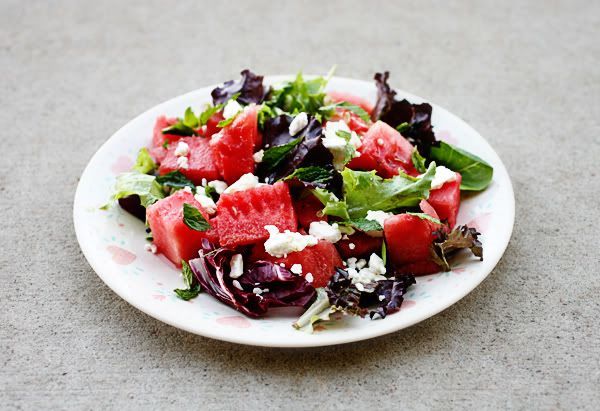 Another favorite post run, summertime salad, and this time it is attributed to the great
Patricia Wells.
Ironically, I've been making this salad a while, the first time I saw it was in a Runner's World magazine last summer. It was not until more recently that I looked at the attribute and realized this was one of Patricia's creations.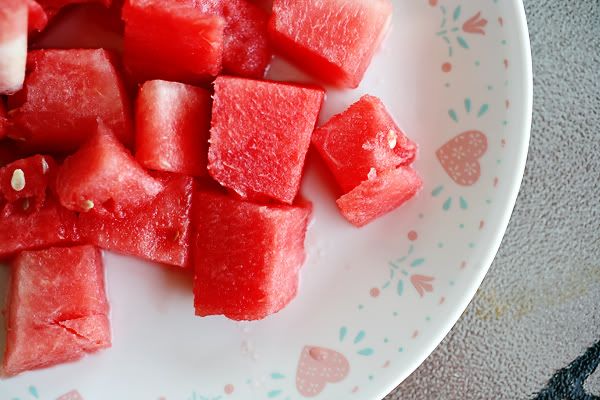 This time of year, the watermelon is coming in like crazy at the farmers markets. There are many health benefits from eating it since it contains some fantastic antioxidants. Interestingly enough, after watching a few television interviews, Patricia has mentioned that she really enjoys running (
a woman after my own heart
) and tries to run 5 miles every day.
Rock on Patricia!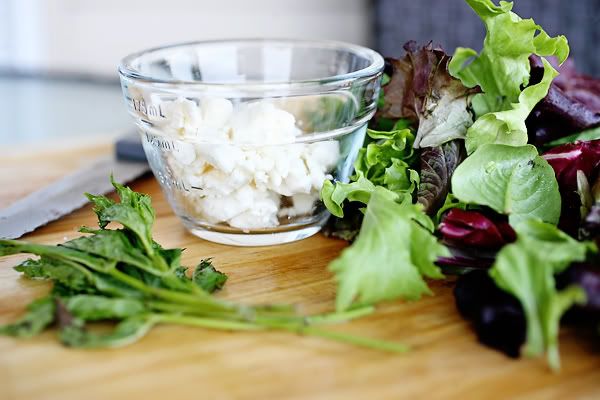 The Shopping List:
Salad
2 pounds watermelon, rind removed
1 cup Greek feta cheese, crumbled
1 cup fresh mint leaves, cut into thin strips
1 cup mixed baby greens
Dressing
1/4 teaspoon fine sea salt, or to taste
1 tablespoon freshly squeezed lemon juice
1/4 cup extra-virgin olive oil or lemon oil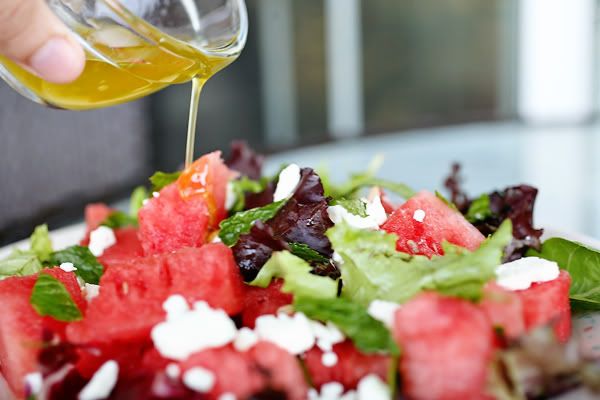 The Method:
Begin by cutting the watermelon into large pieces. Divide by four and put an equal amount on each of the plates. Mix in the feta cheese, mint, and greens on top of each watermelon serving dividing the portions equally once again.
Next up is the dressing. In a small container, mix the sea salt and lemon juice until thoroughly blended. Pour in the oil and mix once again. Drizzle the dressing over top of each of the salad portions.
Simple, easy, and delightful.
Please check out these other rock star bloggers who are paying tribute to Patricia Wells this week.
Val -
More Than Burnt Toast
Joanne -
Eats Well With Others
Taryn -
Have Kitchen Will Feed
Susan -
The Spice Garden
Claudia -
A Seasonal Cook in Turkey
Heather -
girlichef
Miranda -
Mangoes and Chutney
Jeanette -
Healthy Living
April -
Abby Sweets
Katie -
Making Michael Pollan Proud
Mary -
One Perfect Bite
Kathleen -
Bake Away with Me
Viola -
The Life is Good Kitchen
Sue -
The View from Great Island
Barbara -
Movable Feasts
Kathleen -
Gonna Want Seconds