In prep for my half marathon this weekend, I was doing a little time in the gym this weekend. Grabbing a magazine I headed over to an elliptical to warm up before hitting the weights. Paging through I stumbled across this recipe for Ricotta and Spinach Stuffed Shells. It looked like it had potential.
Of course by the time I was using the free weights all I could thing was R-I-C-O-T-T-A! My poor brain has a one track mind.
I memorized the list of ingredients from the magazine and after my workout I ran to the store and picked up what I needed.
Then I went home and looked up the recipe online at Whole Living and perused through. The lone comment left was that it was a little "tasteless" and not seasoned enough. I took that on as a challenge.

The Shopping List:

1 28-oz. can whole tomatoes
2 tablespoons olive oil
2 cloves garlic, minced
2 tbsp fresh ginger, minced

A pinch of sea salt

A pinch of pepper
1/2 cup vegetable broth

1/2 cup bulgur wheat

16 jumbo pasta shells
1 pound bunch spinach, stems removed
1 15-oz. container part-skim ricotta
1/4 cup egg beater

1/4 cup freshly grated Parmesan
The Method:
On the stove top, bring a pan to medium heat and add in the olive oil. While it is warming, pull out the food processor and put in the whole tomatoes (
or in my case, half a can at a time because mine is so darn small
). Pulse until the tomatoes and their juices are smooth. Set to the side for a minute.
Take the garlic and add to the heated pan. Watch them carefully because they will burn quickly. After a couple minutes add in the tomatoes and stir. Keep them on medium heat.

Meanwhile, pull out some fresh ginger. Using a vegetable peeler pull back the skin of only the portion needed, roughly an inch to an inch and a half. Cut that ginger off from the rest and mince it up. If you have never used ginger before, it will give off a pleasant aroma. This will be part of our secret to make this recipe more tasty. Add this ginger to the tomato and garlic. Add in the dash of sea salt and pepper, stir in and allow to cook for about twenty minutes on medium heat.
Meanwhile, preheat the oven to 350°F. In a small sauce pan, warm up the vegetable broth. In a small heat proof dish, add the bulgur wheat and vegetable broth together and set to the side for about twenty minutes. This will give the wheat a chance to soften and soak in some of the vegetable flavor. Another little trick to make this recipe a little more tasty.
And because this recipe calls for lots of dirty pots and pans, bring a large pot to boil on the stove. Add a pinch of sea salt and add in the jumbo pasta shells. Once they are cooked, drain the water and allow the shells to cool slightly so they will be easier to handle.
While the shells were cooking, pull out the spinach (wash if you have not already) and desteam. Put in a pot and add about 2 tbsp of water and cover with a lid. Steaming the spinach should only take about five minutes or so, the leaves should be softened but not wilted.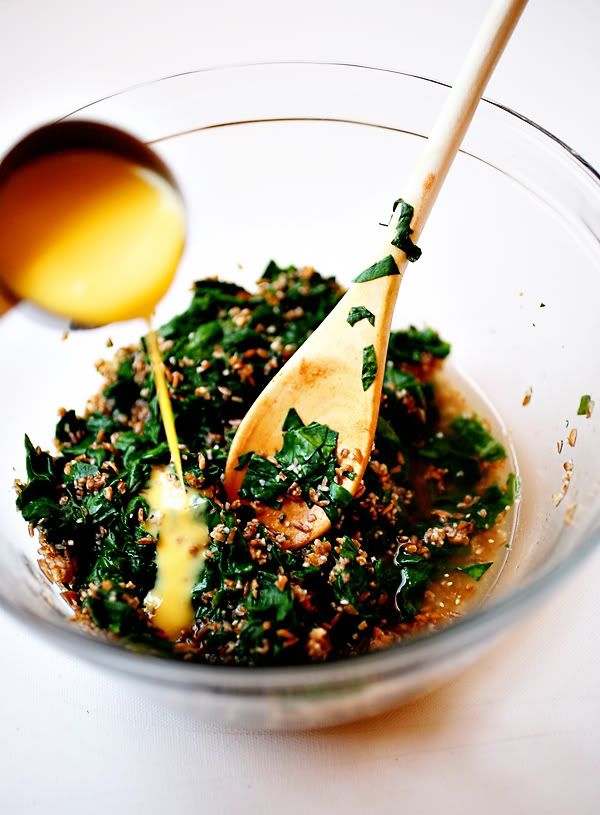 Once the spinach is steamed, drain any gathered water and coarsely chop it up. Add it into a mixing bowl (
More dirty dishes,
YEA!) along with the bulgur wheat and vegetable oil (which should be soaked up at this point. Add in the egg beaters and ricotta cheese. and stir it well.
In the bottom of a 9x13 baking dish, take out some of the tomato sauce and coat the bottom. Take the cooled jumbo pasta shells and fill them with the ricotta mixture and set them in the pan. Use the remainder of the tomatoe sauce and drizzle over top of the shells.
Cover the pan and put in the oven for roughly 40-45 minutes. Pull out and while still warm, take some grated Parmesan cheese and sprinkle over the top.
Now that is
tasty
.