The designers of these whisks,
LucidiPevere
, are thoroughly Italian, but they are certainly inspiring me with their whisk that harkens back to Danish design. Even the name, Normann Copenhagen is making me excited. It seems only appropriate that after a week of working on Danish inspired drinks such as the
Rhubarb Smoothie
and
Egg Lemonade
, I follow up with some Danish inspired design.
They almost--
almost
--remind me of those "As Seen on TV"
head scalp massagers
that you could buy promising to scratch your head for the perfect scalp massage. Anyone else see that?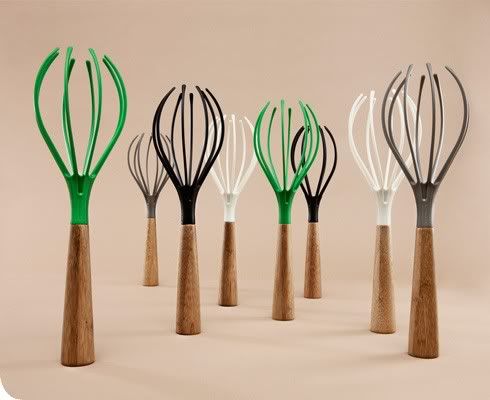 I originally spotted these over on
Design*Sponge
and instantly fell in love. They are available at
Gretel
design, and I think there is an obvious color winner in
Beloved Green
's heart.
Mi amor
.