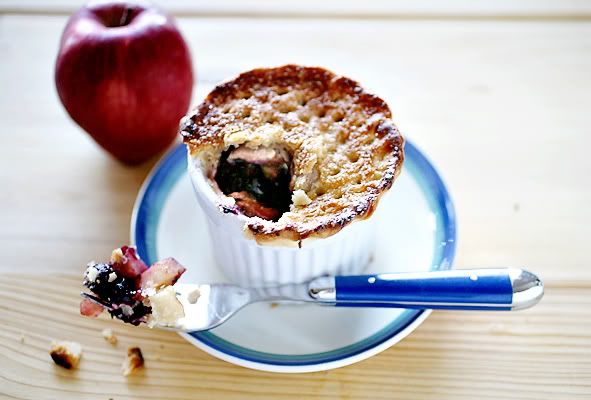 All day yesterday I was dreaming of a little pint sized pie. Just my own personal piece of heaven. One that I do not have to share with anyone -- because I'm a selfish pie lova'. Just a little something to hold me over while watching the
Dancing with the Stars
results.
The Shopping List:
7 oz pie crust
2 Granny Smith apples
3/4 cup blueberries
1/4 cup water
1/8 cup sugar

1/2 tsp cardamon
1/2 tsp nutmeg
1/4 cup egg beaters
1/8 cup demerara sugar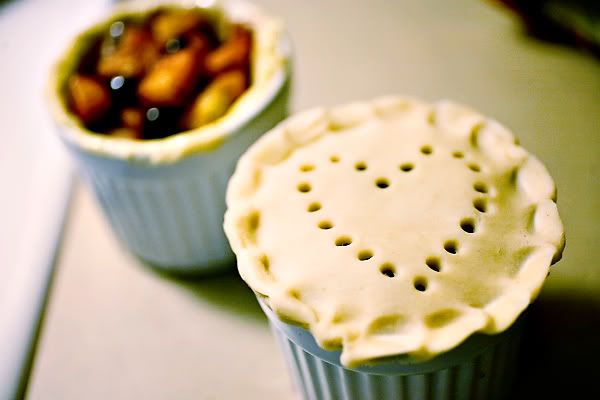 I "heart" you Demetri!
The Method:
Preheat the oven to 350°F. Begin by rolling out the pre-made pie crust. Cut in half, put one half aside, and the second half lay flat. Using a ramekin as a template, cut a circle a 1/4 inch bigger then the opening of the cup. Take the remainder of the pie crust and mold to the inside of the ramekin and folding over onto the lip of the ramekin. Do the same with the second half of the pie crust. Put the ramekins in a preheated oven and allow the crust to bake for 10 minutes (
do not bake the top pre-cut circles yet
).
Meanwhile, bring the water to boil in a saucepan. Add in the sugar and allow to dissolve in the bubbling water. Peal, core, and cut up the apples into small half inch pieces. Toss the apple pieces into the sugar water and allow the apples to soften slightly stirring occasionally. Cook for about five minutes. Remove the pan from heat.
About this time the prebake on the crust is done. Pull it out of the oven and allow it to cook slightly.
Add the blueberries, cardamon, and nutmeg to the apple pan. Stir them together and distribute between the two ramekins.
Now bring out the circles of pie crust dough that were cut out earlier. On the top make some ventilation holes. I use a
hole punch
that goes usually goes with a scrap booking eye setter. But mine stays in the kitchen.
Using a pastry brush, dip in the egg beaters and coat the lip of the ramekin. Lay the "holey" circles over the top and pinch them to the ramekin.
Dough-to-dough kisses if you will.
Brush the remainder of the egg beaters over the top of the pie dough and sprinkle with the demerara sugar. Bake for 20 minutes, remove and allow to cool slightly. Then serve it up!