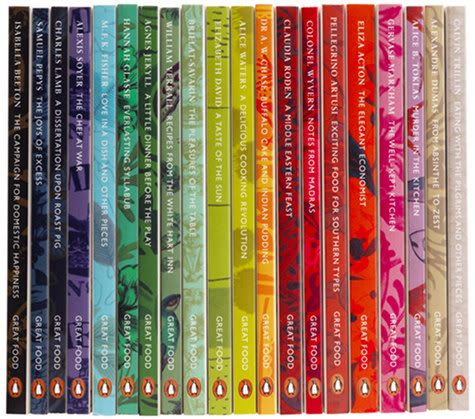 By my nature I am a visual person. I am drawn to beautiful colors and design in food, as well as art. My brain works in a visual-spacial manner. Colors excite me. Good design delights me.
It is the reason I catalog my food journey, because I am stimulated by the visual record of food, the sight pulls me in while the smell and taste remind me to keep coming back.
The design behind Coralie Bickford-Smith's
Great Food
covers does precisely this.
In her own words
:
"I want these books to be cherished like the literature inside. If something is well considered, it will entice. People want to explore it, feel it. That design shines through and connects."
The
Great Food
covers she designed for Penguin were inspired by ceramic pieces that originated for the time period of each cook book. What I love is that they look lovely by themselves, but as a collection they are absolutely divine. Since my cookbooks are almost always out on my counter and never stashed in a cupboard, I appreciate their exterior beauty as much as the recipes inside.
A handful of my personal favorites. Both charming and amusing.