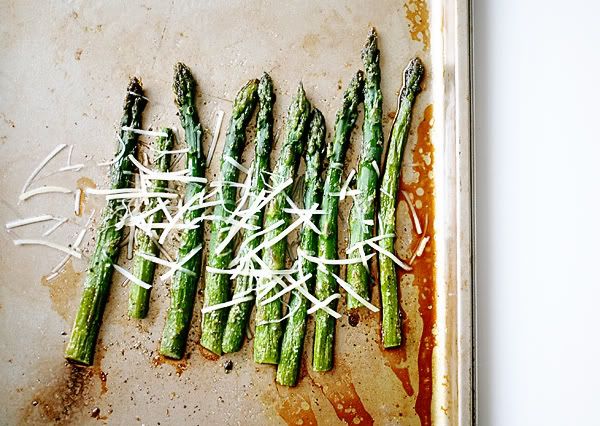 This past weekend I competed in my first larger race of the year, the half marathon. What is normally a really great distance for me (13.2 miles) became a bit more difficult. The temperatures dropped and there was a constant rain throughout the race, and after I crossed the finish line it began to snow.
It was probably the most miserable race I have ever been in conditions wise, parts of the trails we ran on were washed out and turned to pure muddle puddles. I joked with friends that it was more of a
muddy warrior dash
then a half marathon.
But in the end I finished, and now I am looking forward to my first full marathon next month.
Most of my extra free time is going to training right now, so I have adapted a mentality for my life and my kitchen to K.I.S.S.
Keep it SIMPLE superstar.
So in that vain, while I was doing some warm ups for my weight lifting the other day, I can across this recipe in
Bon Appetit
magazine and new it would be a winner,
Balsamic Asparagus
.
The K.I.S.S. Shopping List:
A bushel or package of asparagus
A dash of olive oil
A pinch of sea salt
A pinch of ground pepper
A sprinkle of balsamic vinegar
A slathering of Parmesan cheese
The K.I.S.S. Method:
How simple? Well heat up the oven to 400°F. Pull out a package of asparagus--I'm still using my frozen stuff since we now have four inches of snow on the ground-nature is confused this spring.
Lay the asparagus out on a baking sheet and coat lightly with olive oil. Sprinkle some sea salt and ground pepper over top. Turn them around and repeat to all sides. Bake in the oven for about 20 minutes. Pull those little beauties out and drizzle some balsamic vinegar (no need for measuring, just give it a little dash, this is kind of freeing in that way) and top with a sprinkling of grated Parmesan cheese.
I seriously had a mouthgasim after eating this, which seemed wrong because it is that simple. But it just hit the spot after some cardio and weight lifting.