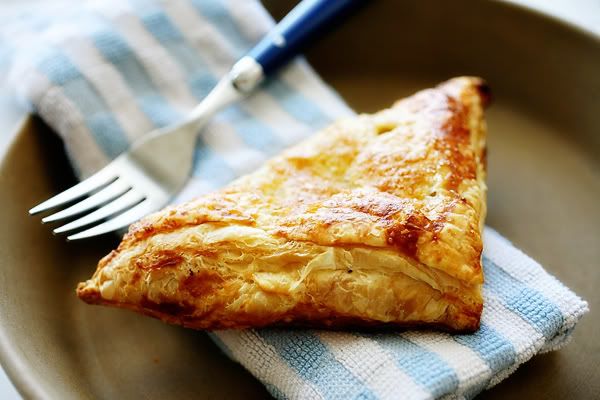 I have had this recipe bookmarked for a while. I love, love,
loooove
pears. So for some fun my mom and I had some girl time yesterday and made these together. Concensus--these are just fantastic. Sweet, but not too sweet.
The Shopping List:
1.5 lbs of pears
1/8 cup water
3 tbs sugar
1/2 lemon, juiced
1/2 tsp cardamon
1 package frozen puff pastry
1/4 cup egg beaters
3 tbs demerara sugar

The Method:
Peal, core, and slice the pears into approximately 1 inch pieces. Mix the water, sugar, and lemon juice in a small pan and add in the pears. Bring the mix to a boil and continue stirring. Let that sugar get all dissolved. Cook for a few extra minutes, but make sure the pears do not get mushy.
Pull the pan off of the heat and add in the cardamon. Allow the mixture to cool. Meanwhile, heat the oven to 400
°
F. Line two baking sheets with parchment paper. Take the pastry puff and flatten it to a square, mine came out to about 13.5 - 14 inches. Cut into four smaller squares. I had two sheets of pastry and was able to make eight shells.
Divide the pear filling into eight equal parts and put in the middle of each square. Brush the edges of each square with egg beaters and fold each of the pasty squares over to create triangles. Press the edges down to keep all the ooey-gooey goodness inside.
Use the pastry brush and brush the egg beaters on top of each turnover. Sprinkle the demerara sugar on top. Cut three slits in each turnover for ventilation when baking. Put turnovers in the frigerator for 15-20 minutes, and then bake for 15 minutes on middle rack. Reduce heat to 350
°
F and bake for another 10 minutes until the top gets a nice golden color.
Bring out to rest for ten minutes and serve warm or cooled. From experience, they also reheat well.
It's daylight savings time. We lost an hour her in the U.S., but I gained a full tummy.