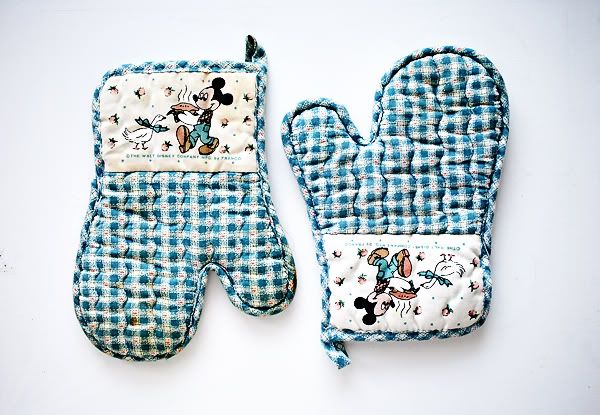 There are two pairs of faithful oven mitts in my life. I have had them both since college. There is a pair of well worn with a slight singe to them Mickey Mouse mitts my mom got me in college.
Then there is a pair of red Kitchen Aid mitts that I got for myself when I was certain I would decorate my first kitchen with red accents. That was about ten years ago, and I am more of green gal now.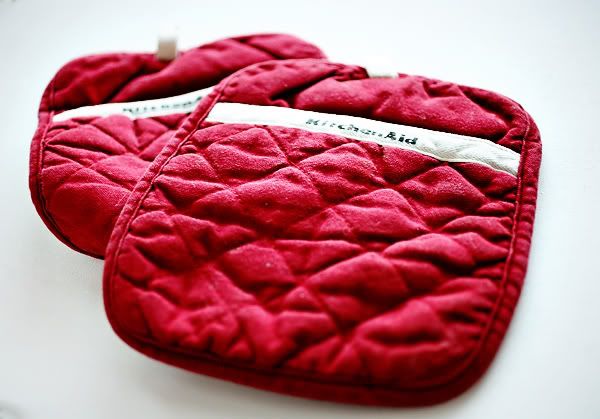 Both have served their purpose and survived many hot dishes, trips through the laundry, and a half dozen moves. An impressive feat, but it is time to send them to oven mitt retirement.
So today I am hunt for some new ones. I thought it would be an easy task, but apparently the choices have increased since my days on a college budget.
Option #1
The first pair that caught my eye came via
swissmiss
, the
Pixel Oven Mitts
. Don't really know how functional they are, but they are darn cute. Unfortunately they are out of stock. *
insert pouty lip
*
Option #2
Next up is the
Shark Bite Mitts
. I have seen a couple variations, but I like this one found via
Incredible Things
. But of course, this is on wait list. Also a bit sad they do not have the thumb hole. I kind of like having some maneuverability when I'm holding hot pans. *
insert pouty lip, and the pouty lip of my adorable nephew
*
Option #3
is the
Green OrkaPlus Silicone Oven Mitt
. It comes in green *
squeal
* It's in stock *
jumping up and down
* So they look pretty, but are they really that functional? Seem similar to the
OXO Green Silicone Oven Mitt
.
Option #4
is the
Euro Oven Mitt
. This little dude is made from neoprene and looks functional. I have some camera bags made out of this material and it is very flexible, while very strong. Love the simplicity of the design.
So which ones should I go with? Or are there others that I should be looking at?