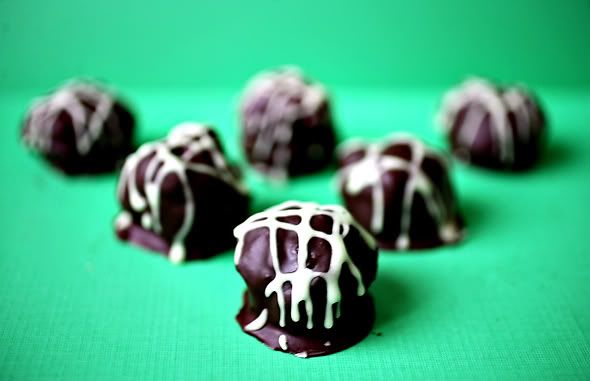 Given my blog name, "
Beloved Green
", it is probably no surprise that my favorite color in the world is, well --
green
. It definitely helps to push St. Patrick's day up my list of favorite holidays.
I have been working on my family tree for a while though, and have yet to come across one Irish decedent. Fingers crossed I eventually find one.
This is a favorite recipe of mine, folks like it and its simple to put together. I've seen many variations of it, but my twist is that there is a splash of good ol' Bailey's sprinkled in. Makes my tummy warm just thinking about it.
The Shopping List:
1 package mint Oreos

16 oz cream cheese
12 oz of semi-sweet bakers chocolate
1/4 cup vegetable oil
1/4 cup Bailey's Original Liquor

1/2 cup powdered sugar
1/8 cup egg whites
1/8 cup vanilla almond milk
1/2 tsp vanilla extract

2 drops of almond extract

1 drops of green food coloring
Begin by separating the Oreos, the green mint cream in one pile, and the chocolate outer shell in another. Use the food processor on the chocolate outer shell until is finely ground. Pour the processed outer shell into a bowl and add in cream cheese. If find it is just best to get in there and mix it all up with your mighty bare hands, but a blender could work as well. Finally, add in the yummy inner mint green portion of the Oreos, but not over mixing. You want some green speckles to shine through when someone is biting in.
Put the mixture in the freezer for ten minutes to firm up a bit. Bring out a baking sheet and line with wax paper. Pull out the bowl from the freezer and start rolling out balls about an inch wide. Fill the baking sheet and put back in the freezer for a half hour.
The outer cover:
Meanwhile, put a glass bowl over a pan filled with about an inch of water and turn up to medium heat (also known as a double broiler -- but I'm thrifty). Add in the semi-sweet chocolate and vegetable oil, and stir until smooth. Bring the heat down to low and mix in the Bailey's. Make sure your mix is a nice smooth consistency, but not running. You want them to stick to the creamy balls (
Alec Baldwin anyone?
)
Pull the baking sheet with creamy balls from the freezer. Take balls individually and roll them in the glass dish to coat entirely. I found using a thong helps to pull them out of the bowl while keeping the chocolate nicely coated over it. Put the creamy-chocolate-covered-balls back onto the wax paper. Once finished with the whole sheet, put them in the refrigerator to harden.
The decorative finish:
In a small bowl, mix the powdered sugar, egg whites, and almond milk. Again, looking for a smooth consistency, but not too watery. Add in the vanilla and almond extracts, as well as the drops of green food coloring and add into a piping bag with a small tip. Pull the creamy-chocolate-covered-balls from the fridge and begin dragging the icing across in a random fashion like me, or perhaps do something more reserved, like create little shamrocks on top. I'm too impatient to do something like that though. So random frosting attack it is.
Keep the Baileys Mint Oreo Truffles refrigerated between serving.
So who else is going to join me and be Irish for a day? Because it would not be St. Patty's Day without some Irish tunes in the background, here is my baking playlist: