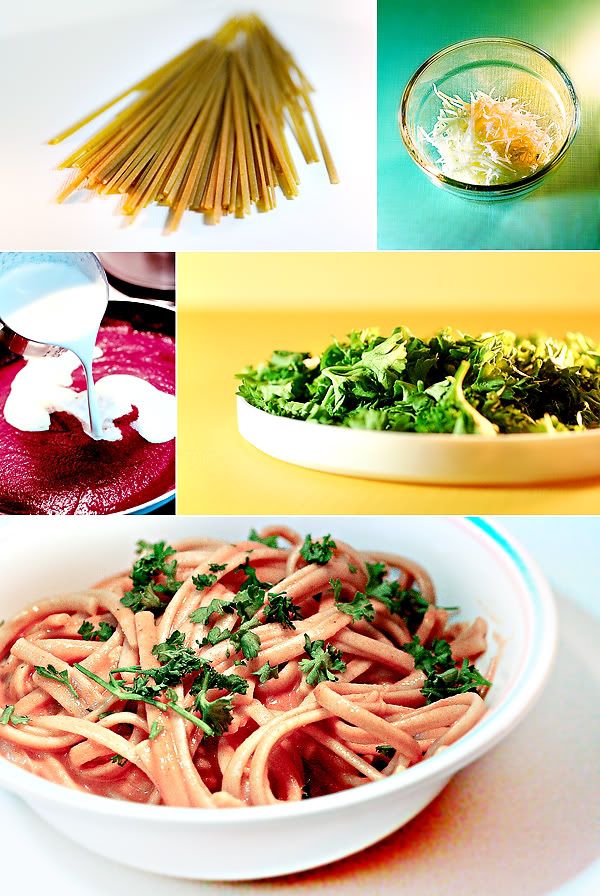 This is my lazy recipe. Lazy because it takes so little to put together, and lazy because when I eat it I want to be in my robe and snuggled onto my couch for the evening enjoying a cheesy British comedy. Especially since me and my kitty have felt under the weather this week. We are all snuggled in and I am enjoying this, while she is nipping at my toes for some more cat nip.
The Shopping List:
2 tbsp Olive Oil
2 cloves of garlic, minced
15 oz of tomato sauce
a dash of sea salt
a dash of pepper
a double dash of sugar
1/2 cup of heavy cream
1/4 cup Parmesan, grated
fresh parsley, chopped
13 oz of whole wheat linguine

The Method:
Heat up some water on the stove to cook the linguine. Before adding the noodles into the boiling water, add a pinch of sea salt. This is really the only time you can season the noodles. After noodles are cooked, use some tongs to pull out the noodles, but make sure to save some of the pasta water. This can be used to reduce the thickness of the sauce later on.
Put a pan on medium heat and add in the olive oil. Add in the garlic and saute for about a minute. Watch carefully because it can burn fairly quickly. Add in the tomato sauce, and season with a pinch of sea salt, pepper, and sugar. Bring down to low heat and cook for about a half our, occasionally stirring.
Remove the pan from heat and stir in the heavy cream. I've tried replacing with Greek yogurt, and it is successful, because there is still heat it is likely to separate in the mixture. Have to let down my skirts a bit on that one. Add in the cheese and noodles before giving a quick mix.
I added some freshly chopped parsley on top, basil would be good too. If it is too thick, use a bit of the pasta water saved from earlier to thin it out a bit, but not too much because we don't want it to turn out soupy.
Super easy, very versatile. Could add in onions, would work with chicken. Don't have tomato sauce, substitute in marinara sauce. The idea is still the same: tomato plus cream equals happy tummy.