As a runner I am constantly looking for foods that fuel, are nutritious, and absolutely delicious. Quinoa is technically not a grain, it is a seed that belongs more to the vegetable family, and similar to beats and spinach. It is high in protein and composed of all nine amino acids.
And most impressively, it passes the kids test. My picky eater niece and nephews scarfed this one down and asked for more.
Yes, please
. They said it had a little crunch and loved the texture.
I love this recipe because it is simple and quick.
The Shopping List:
1/4 cup pine nuts
1 cup quinoa
2 cups water
a dash of sea salt
1/4 cup lemon juice
1/4 tsp cayenne pepper
1/2 tsp ground cumin
aprox. 1/4 cup chopped parsley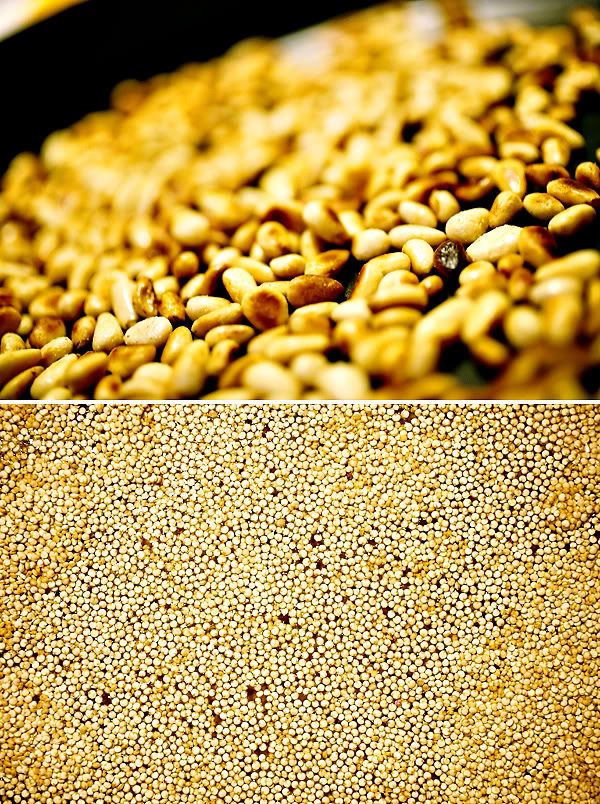 The Method:
Okay, you're going to love how simple this one is. Allow a pan to come to medium heat. Throw the pine nuts in and allow them to toast.
Do not
add oil, there is enough natural oil in the nuts to properly cook. It only takes a few minutes, and watch carefully because they brown quickly. Set those little puppies aside for a few minutes.
Back in the pan, add in the water, quinoa, and salt. Allow the water to come to a boil, and then pull back the heat so that the quinoa can cook until it is soft and tender. Once all the water is totally absorbed, take a fork and fluff the quinoa, working from top of the pan to bottom.
In a serving bowl, add in the quinoa, toss in the pine nuts, lemon juice, cayenne pepper, cumin and parsley. Mix together and serve.
This dish pairs well with the
Grilled Chicken with Yogurt and Bulgur Wheat
.