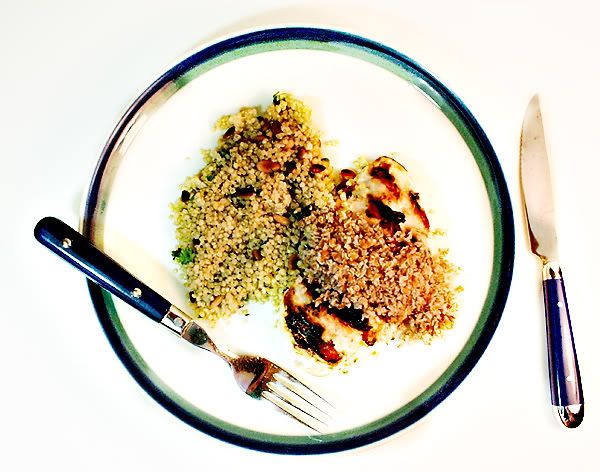 I love this recipe because it is simple, quick, and makes great leftovers. I made it for my young niece and nephews and they scarfed it down, while it received high compliments from the adults. Any dish that can please that many pallets is a definite keeper.
The Shopping List
5 tbsp Greek yogurt
1 garlic clove
1 tsp cumin powder
1 lemon

3 large chicken breasts, boneless & skinless
3 oz bulgur wheat
6 oz chicken stock fresh
a handful of chives & parsley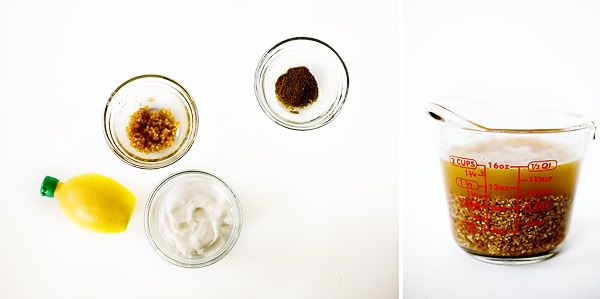 The Method:
Chop of the garlic and juice the lemon In a small bowl mix together the yogurt, garlic, cumin and lemon juice. Brush the mixture over the chicken breasts and store in a container or seal-able bag for a half hour.
While the chicken marinates, it is time to put together the bulgur wheat. If you have never had it before, you are in for a real treat. This grain has a bit of a nutty flavor a crunch texture and packs a ton of protein. I found it easy to put the chicken stock in a measuring cup and then pour in the bulgur wheat. Allow this to soften and soak up all the chicken stock goodness.
Once the chicken has had its moment in the marinade, take it out and grill it at a medium heat. I use my trusty old tabletop grill and it takes about 10 minutes to cook through.
When the chicken stock is absorbed into the bulgar wheat, drain out any access and add the chives and parsley as well as a smidgen of lemon juice.
My favorite side to serve it with is Lemony Quinoa--
or really any kind of scrum-diddly-umptious Quinoa
--with the bulgur wheat over top the chicken. So easy and so delicious.