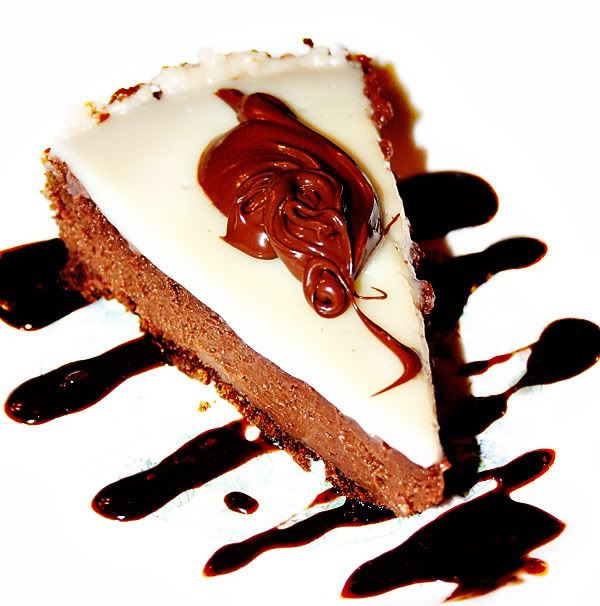 I wish I could claim the brilliance of this as my own, but alas, like most good ideas this one had already been thought up. But that does not mean I should not spread the love. While I originally found this at bell'alimento, a blog that everyone should definitely check out. She snagged the talented Josie at Daydreamer Desserts to write a guest post with this recipe, who adapted the recipe from Deep Dark chocolate by Sara Perry with Jane Zwinger.

So if that is not an intro, I'm not sure what is. And of course, I had to make a few of my own minor tweaks, because that is the best part of experimenting in the kitchen after all.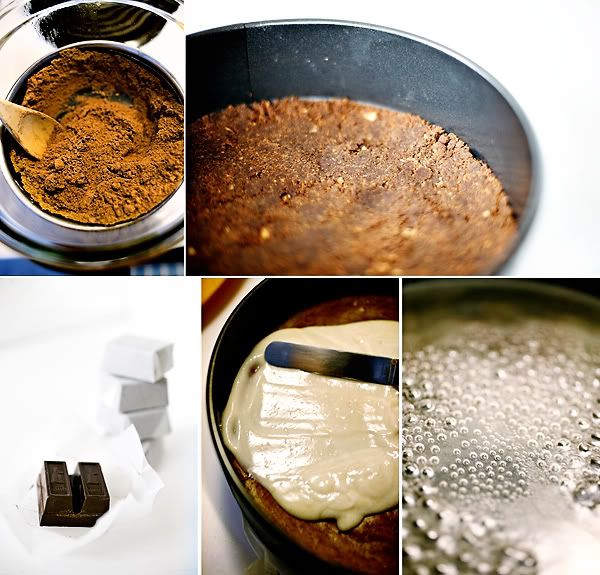 The Shopping List
Crust

10 full Graham cracker sheets
2 tbsp Splenda
2 tbsp unsweetened cocoa powder
4 tbsp unsalted butter
1/2 tsp espresso beans, ground
Filling



5 ounces semi-sweet chocolate
1tbsp unsweetened cocoa powder
1 tbsp hot water
16 ounces of fat free cream cheese
2/3 cup Splenda
1/4 cup Greek Yogurt
1 tsp pure vanilla extract
1/4 cup Egg Beaters
Topping


3/4 cup Greek yogurt
1/4 cup Splenda
1/4 tsp pure vanilla extract
1 drop of pure almond extract
Nutella Mocha Affogato



1/4 cup granulated sugar
1/4 cup water
2 tbsp Nutella
2 tbsp unsweetened cocoa powder
2 tbsp of espresso beans, ground
Putting together the Crust
In my itty bitty food processor, I ground up the graham crackers a bit at a time. In a separate mixing bowl combined the ground graham crackers, Splenda, cocoa, and espresso powder until well mixed.

Made a double broiler on my stove with a pot filled about an inch and a half with water and put a glass bowl over top. Melted the butter and added this to the graham cracker mix. Took a bit of experimentation because the graham cracker mix needs to be sticking together, so started off with about 2 tbsp of butter and ended up adding an additional 2 tbsp before it was at the right consistency.
My spring form pan is about 9 inches, so I did not have much graham cracker mix coming up the side, did not have a problem with this later on. Could have ground up some more crackers, but I kind of liked it the way it was. To ready the spring form pan I wrapped some parchment paper on the bottom to make it easier to remove later on. Put the graham cracker mix in and used a flat bottomed cup to even out at the bottom of the pan.

The delicious Filling

Preheat the oven to 350 degrees. Wiped out the glass bowl on my home made double broiler and added in the chocolate stirring occasionally until all was melted. While that was melting I pulled out another bowl and put in the cream cheese, Splenda, Greek yogurt, and vanilla. I mixed them up with the trusty ol' hand mixer until it was smoooooth as butta'. Last but not least, I added in the egg beater and gave the mixture a final turn in the bowl.
In a small prep bowl I combined the cocoa powder and hot water until it was mixed well. Added that into the cream cheese bowl, as well as the chocolate that should now be melted from the double broiler.
Place in the oven for about 40 minutes. After it has baked up, take out of the oven, and bring the temperature back down to 300 degrees.
The Gorgeous Topping
In yet another bowl (the dishwasher is going to be worked out on this recipe) mix together the Greek yogurt, Splenda, vanilla, and drop of almond extract with a whisk. Pour over the cheesecake and spread evenly. Put this bad boy back in the oven for another 15 minutes.
Once the topping bakes on, pull it out and put on a cooling rack until room temperature. Cover the top and place in the refridgerator overnight.
Take a knife and scrape the outside of the spring form pan. Before serving allow to sit for about a half an hour at room temperature.

The piece de resistance: Mocha Affogato
Combine the sugar and water in a small saucepan and put on medium heat. The fun part is watching it bubble up as it boils and the sugar off. Note, I did not use Splenda for this step because it does not have the same consistency when being boiled as granulated sugar. Pull the pan off of the heat and add in the Nutella, cocoa, ground espresso, and touch of salt. Whisk it up until consistent.
Drip the affogato on a plate and then add a piece of the cheesecake. Top it off with a dollop of Nutella and serve.
This is my family's new favorite dessert. It takes a bit of patience the first time around, but now I can whip these little beauties up fairly quickly.