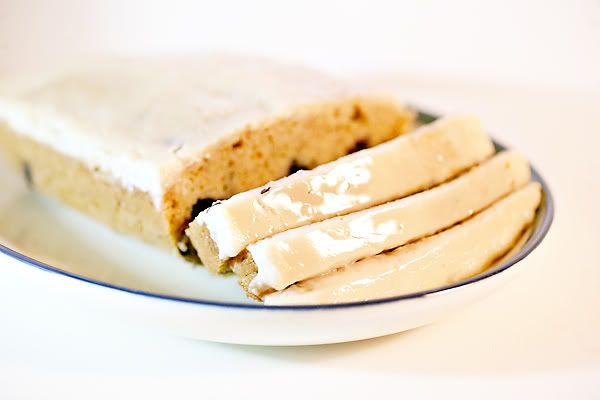 "Bread is like dressed, hats and shoes -- in other words, essential!"

~Emily Post
It is snowing out today, my BelovedGreen Packer's brought the trophy back to Titletown, and I am hungry. To celebrate all three it was time to break out a rather simple, yet delicious recipe. It was time for Blueberry Cinnamon Bread.

Shopping List:
For Bread:
1/4 cup butter, softened
1 cup white sugar
1 cup chunky applesauce
1 1/2 teaspoons ground cinnamon
1/2 cup eggbeaters

1 teaspoon baking soda
1 1/2 cups wheat flour
1/4 cup blueberries

For Topping:
3/4 cup sour cream
1/4 cup granulated sugar
1/4 teaspoon pure vanilla extract
drop of pure almond extract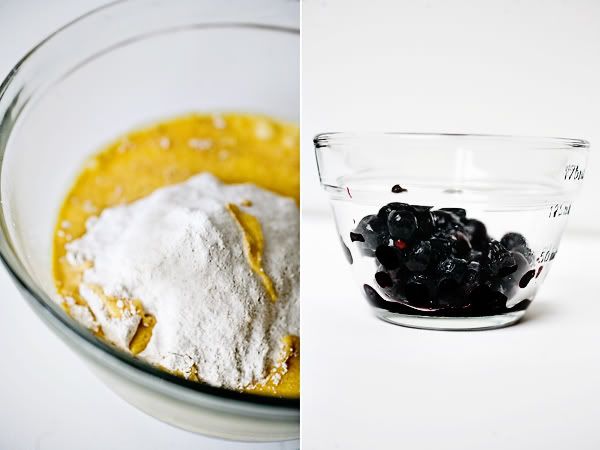 The Method:
Preheat oven to 350 degrees. Grease a 9x5 inch pan.
In a large bowl, mix together the butter and sugar until it starts looking light, fluffy, and delicious. Mix in the applesauce and the cinnamon. Stir in the eggbeaters slowly, beating well with each addition. Next toss in some baking soda and the flour.

I discovered this afternoon that I have hordes of frozen fruit in my freezer. Apparently I keep buying more, and did not realized that I had about five packages hiding behind my ice cream.

I blame the ice cream

. I pulled out some blueberries and added this in for fun. Washed some freezer burn off and they were good to go. Pour the batter into the prepared pan.

Bake for 40 minutes and take out to cool briefly on a cooking rack for a few minutes. Turn down the oven to 300 degrees.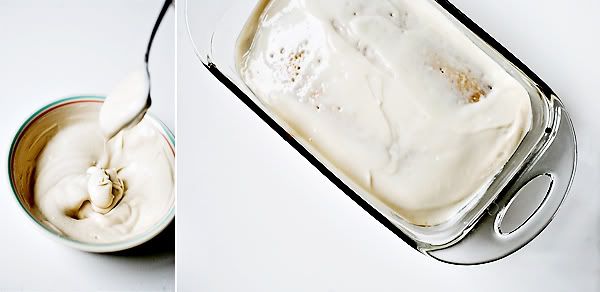 Onto my favorite part:
the topping
. AKA,
the frosting
. Mix the sour cream, granulated sugar, vanilla extract, and almond extract into a small bowl. Take that ooey-gooey goodness and spread it over the bread. Perfection not required, but sweet tooth certainly is. Put the pan back in the oven for another 10 minutes.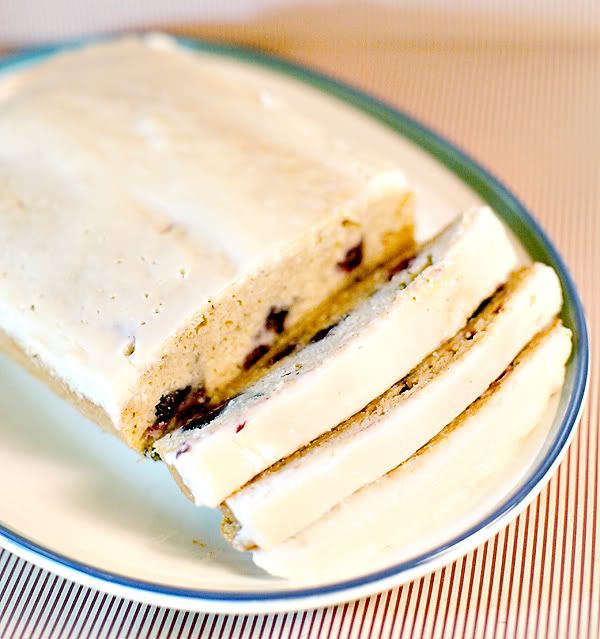 Take the pan out and allow to cool. Cut and serve in slices. Good served warm, or slightly chilled. Remember to refrigerate leftovers, and enjoy this soft spongy bread. I think it is absolutely divine with English Breakfast Tea in the mornings.